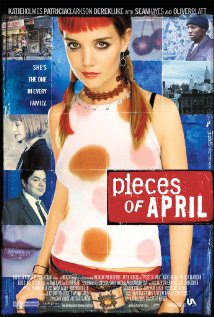 These are my all time favorite Thanksgiving movies. I will add comments as to why as soon as I can but I wanted to put up the list in case you were looking for a movie to see today or tomorrow. "Pieces of April", "Planes, Trains & Automobiles", and "What's Cooking" are for more mature viewers; "The New World" is more contemplative in scope and may require more attention that kids can give.
Pieces of April – click on the title for my brief review; I love this movie where the misfit and the outcast comes to explain the essence of Thanksgiving to a Chinese family – and to her own.
http://www.youtube.com/watch?v=sz6pGSKGdho
Planes, Trains, and Automobiles (Wikipedia)
This Wiki gives away the plot but imagine if you were the Steve Martin character, Neil, in Witchita, KS and could not get home to your wife and children in time for Thanksgiving because every means available is thwarted. Then you meet an amicable salesman who wants to get "home" too and starts off as a means to an end, becomes an inconvenience, an irritant, a burden. Just when Niel can rid himself of his companion, he has a sudden realization and does something that completely expresses what Thanksgiving means. Remember that Martin's character is frustrated to the max so his language is an external manifestation of his inner reality; if you do this film will become most memorable.
What's Cooking?  No family knows who is going to show up for Thanksgiving, who your children will bring, your siblings, and what life choices they have made. Here four families at a residential intersection in Los Angeles celebrate Thanksgiving: Mexican-American, Jewish-American, African-American and Vietnamese-American. The films is about connections, relationships, forgiveness, transgressions, and transforming love all happening around the Thanksgiving celebration.
 The New World  Click on the title for a review of this film that contemplates the encounter of the British with Native Americans in the 17th century, especially the fabled love story between Pocahontas and John Smith.
The Blind Side This based-on-a-true story family film is all about the qualities of Thanksgiving with one sequence that captures it wonderfully well. It's about a football star, too.