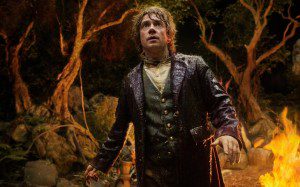 In the time before the great contests recorded in "The Lord of the Rings," the Shire, hobbit zone of Middle Earth, is a gentle place, and hobbit Bilbo Baggins (Martin Freeman) is comfortable in his hobbit hole home. He loves his books and appears to be rather fussy. Enter the wizard Gandalf the Grey (Ian McKellan), who tries to entice Bilbo to come on an adventure. Bilbo is reluctant, but Gandalf has invited a band of 13 dwarves, led by Thorin (Richard Armitage), to gather at Bilbo's home. Bilbo does not impress the dwarves, especially Thorin, so Gandalf says the hobbit is a burglar and his skills will be of use to them on the journey. Gandalf also has a map that will help them achieve their goal. Rather than convince the hobbit to join them, the dwarves' antics and brawling at the dinner table more than put him off. He accepts, then refuses to go, then has a change of heart.
The adventure is a solemn task: to reclaim the dwarf kingdom at Lonely Mountain that was conquered by Smaug the dragon during the time of Thorin's father. The elves, led by Thranduil (Lee Pace), refused to come to the aid of the dwarves so they could preserve their own kingdom, and Thorin is still bitter and does not trust them. Gandalf tricks the band to visit Rivendell and consult Elrond (Hugo Weaving), an immortal elf who can translate the runes on swords taken from the cave of trolls. Elrond reads the map for them as well. Galadriel (Cate Blanchett), the "fairest of all the elves in Middle Earth," says she will be with the band when they need her most.
The adventurers trek across harsh terrain and meet hostile creatures all along the way. They help themselves to the gold and weapons the trolls have stockpiled. After harrowing skirmishes in the goblin tunnels, Bilbo meets the dark creature Gollum (Andy Serkis), who loses a golden ring that Bilbo pockets. The ring's power protects Bilbo Baggins and the band.
"The Hobbit: An Unexpected Journey" is the first of a new trilogy of films from Academy Award-winning director Peter Jackson. His previous "Lord of the Rings" swept the cinematic world between 2001 and 2003, to the delight of author J.R.R. Tolkien fans everywhere.
Those familiar with the original novel "The Hobbit" (1937) will note …. click here to continue reading