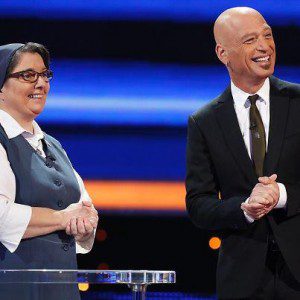 Click here to see Episode 3 of "Take It All" December 12, 2012 (NBC)
(I wasn't able to embed the video 😉
Thanks to my co-contestants, you are the best! And thanks to Howie Mandell and the crew as well, and to all of you for watching!
This is me giving the NACMP beauty queen wave that I learned from Vicki Bedard, Miss Brown Trout of Hometown, MI:
And my sister Emilie giving me "suggestions" that neither I or the others could see or hear; that's Sister Jennifer Thecla to her left
 Like the last NBC (then GSN) game show I had the privilege of being part of, 1 vs. 100, the premise is simple. You play the party game "White Elephant"  though it's with strangers and has a twist to it: you get a chance to "take it all." Sr. Marie James and I auditioned for the show but she was unable to move forward through the process because the taping date conflicted with a long- planned pilgrimage to Rome, with her parents, for the canonization of now St. Kateri Tekakwitha (Sr. Marie is half Penobscot).
Being on a show like this lets you see how television is made, all the moving parts and the people who make it happen. Every time I take part in a television show I meet so many good people. I think there may be an introduction on this episode that says why we wanted to play "Take It All."
My younger sister Emilie and Sister Jennifer Tecla, from my community, were at the taping of the show, and a wonderfully good time was had by all.
Here's a recent article about "Take It All" from the Huffington Post 
The show begins airing tonight, for six nights only.
http://www.youtube.com/watch?v=vC4jjMDDooM