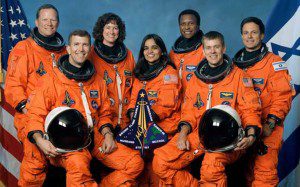 PBS always has something interesting waiting in the wings. This week, it will broadcast a trifecta of significant documentaries.
"The Revisionaries" (Independent Lens) 
10 p.m. Monday (check local listings)
Of all the films I have seen from PBS's Independent Lens series, "The Revisionaries" is the most unsettling. It confirms what I have heard and read over the last few years about the influence of fundamentalist Christians in public education through the narrow focus of creationism, or religious belief, over science and the theory of evolution.
As public school textbooks go in Texas, so they will go in the rest of the country. Why? Because of the sheer quantities: Five million school kids represent a lot of money for publishers, and they don't want to publish different editions for various states. Every 10 years, the Texas State Board of Education convenes to write, change or revise textbook standards. The state of California also influences educational publishers, but not to the extent Texas does.
In "The Revisionaries," director Scott Thurman follows four people involved in the Texas State Board of Education over three years. The main one is Don McLeroy, a dentist, Sunday school teacher and an "avowed young-earth creationist," as he leads the effort to amend the science, social studies and history curriculum of Texas students from kindergarten to 12th grade. His determination to set up a religious explanation for the world as an alternative to a scientific or scientific theoretical explanation for creation in the science curriculum seems to represent the efforts of the majority of board members — though not all.
Ron Wetherington, an anthropology professor from Southern Methodist University, argues to no avail that science must counter science and that religion or creationism is not a scientific argument. I watched with amazement as the school board voted to remove the topic of institutionalized racism from the social studies curriculum. As one commentator says, the dominant school board members evidence "arrogance and ignorance" as they pick and choose what to include or exclude in public education. If this documentary is to be believed, its contents are nothing less than astounding and provocative.
"Henry Ford" (American Experience) 
9 p.m. Tuesday (check local listings)
This two-hour film documents the life and influence of automaker Henry Ford (1863-1947). Henry was born and raised on a farm outside
Click here PBS History Trifecta: American History Documentaries to continue reading about Henry Ford and this 10th anniversary program commemorating the Columbia Space Shuttle disaster.