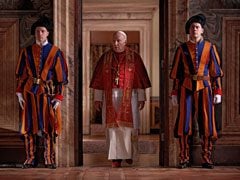 Almost a year ago (April 5, 2012) I reviewed Nanni Moretti's dramedy "We have a Pope". Click here for the full review.
Here is the sidebar I wrote to accompany the review:
Wandering popes, real and fictional
For "We Have a Pope," Italian director Nanni Moretti seems to draw on previous stories about wandering popes and those who resigned, real and fictional.
Ignazio Silone's 1968 The Story of a Humble Christian offers a fictional imagining of the true-life election and resignation of the former Benedictine monk who became Pope Celestine V (1215-96) after a conclave lasting two years. He resigns after just five months because of "the desire for humility, for a purer life, for a stainless conscience, the deficiencies of his own physical strength, his ignorance, the perverseness of the people, his longing for the tranquility of his former life."
In real life, four other popes resigned, though one, Benedict IX in 1045, regretted it and returned. The last pope to resign was Gregory XII in 1415 at the request of the Council of Constance.
It is interesting to note that Pope Paul VI's visit to the tomb of Pope St. Celestine in 1966 fed a rumor that Paul was considering retirement. More recently, Pope Benedict XVI visited Celestine's tomb in Abruzzi, Italy, in 2009 and left at the saint's tomb the woolen pallium he received when he was inaugurated as pope. Benedict also proclaimed Aug. 28, 2009, to Aug. 29, 2010, as the Celestine Year in honor of the 800th anniversary of the saint's birth. No other pope since has taken the name Celestine.
Thus it would seem that resigning the papacy is not as bad as the poet Dante is believed to have written in the "Inferno" about Celestine V:
I saw and recognized the shade of him
Who by his cowardice made the great refusal.
For a more populist look at the same kind of scenario where a pope considers resigning, I prefer "Saving Grace," a 1986 film based on the novel by Celia Gittelson and starring Tom Conti as Pope Leo XIV. Here the pope is locked outside the Vatican when a garden gate closes. He takes advantage of this moment and ends up in a village where he is able to discern his role, and minister to a flock that needs him.
In Morris West's 1963 novel, The Shoes of the Fisherman, and the 1968 film based on it, Pope Kiril goes for anonymous strolls outside the Vatican to stay in touch with the people rather than to discern whether he should stay or go.
It's hard to believe that no one has yet made a film from Robert Ludlum's very funny 1992 novel The Road to Gandolfo. It's a military conspiracy story with a "Ransom of Red Chief" O'Henry twist when the beloved Pope Francesco I is kidnapped for ransom. That he is thrilled about taking a break from his role as pope renders his fumbling kidnappers utterly confused.
For the entire review click here