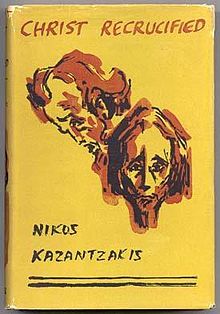 Deadline Hollywood broke the news this morning that Nikos Kazantzakis  1954 novel "Christ Recrucified" has been acquired by Grindhouse Pictures, a company that seems to have only one other film to its credit, "Gabriela", 2001.
The new film will be re-titled "Christ is Risen."
Click here to read the entire article on Deadline Hollywood.
Amazon's description of the novel says:
"The inhabitants of a Greek village, ruled by the Turks, plan to enact the life of Christ in a mystery play – "Passion Play" – but are overwhelmed by their task. A group of refugees, fleeing from the ruins of their plundered homes, arrive asking for protection – and suddenly the drama of the Passion becomes reality."
According to Deadline Hollywood, the setting for the film will move from Greece to Mexico.
Other films have been based on Kazantzakis's  novels such as "Zorba the Greek" (1964) and the controversial "Last Temptation of Christ" (1988) directed by Martin Scorsese.
This new film, however, is said to be aimed at the faith-based audience, the same audience as the recent hit History Channel mini-series, "The Bible."
"Christ Recrucified" was also a BBC mini-series that aired in 1969.