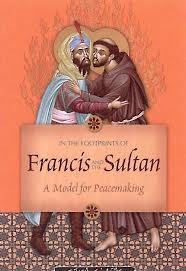 When it was announced March 13 that the church had a new pope who had taken the name Francis, the first thing that popped into my head was, "St. Francis was the first one to reach out to Islam." This fact had just recently had been reinforced when I screened a new documentary from Franciscan Media, "In the Footprints of Francis and the Sultan: a Model for Peacemaking."
Talk about great timing for the release of this two-part DVD written and produced by Franciscan Sr. Kathleen A. Warren and Jayasri (Joyce) Hart, who also directed.
Francis of Assisi (1181?-1226) is the saint of the poor, the environment and animals; he was a man who lived a life of evangelical poverty, humility and peacemaking. He sent his brothers out to preach the Gospel — "and if necessary, [to] use words." As we all know by now, Pope Francis took this name because one of the cardinals told him, "Remember the poor."
But there was one remarkable event, often only mentioned in passing in church history books and even biographies of the saint, when Francis set out for Egypt during the Fifth Crusade. At that time, the Muslims still controlled Jerusalem, but to reach there, the crusaders decided to first capture the fortress of Damietta in Egypt and gain control of the Nile River. The film tells us, however, that Francis did not "buy the pope's call to war but goes instead to embrace the Muslims." When the crusaders laughed at Francis and dismissed him as he tried to convince them not to fight, he decided to meet the sultan. He and Brother Illuminato entered the sultan's camp, where they were treated as spies then brought to Sultan al-Kamil.
No one actually knows what was said since Francis did not speak Arabic and the sultan didn't speak whatever French-Italian dialect Francis used. It was their way of being together, the attitude of mutual respect and understanding, as well as their belief in one God, prayer, kindness to the poor, and peace that certainly appealed to both men.
When Francis returned home, he even amended the rule he had written for his brothers, saying that those who feel called to go to Muslims should be allowed to do so. In 1272, a sultan allowed the Franciscans to settle in the Cenacle in Jerusalem. In 1342, Pope Clement VI named the Franciscans the custodians of the Holy Land "in the name of the Catholic church."
"Francis and the Sultan" is the result of a collaboration …
click here to continue reading on my blog at NCReporter Recent release of 'Francis and the Sultan' documentary is perfect timing | National Catholic Reporter