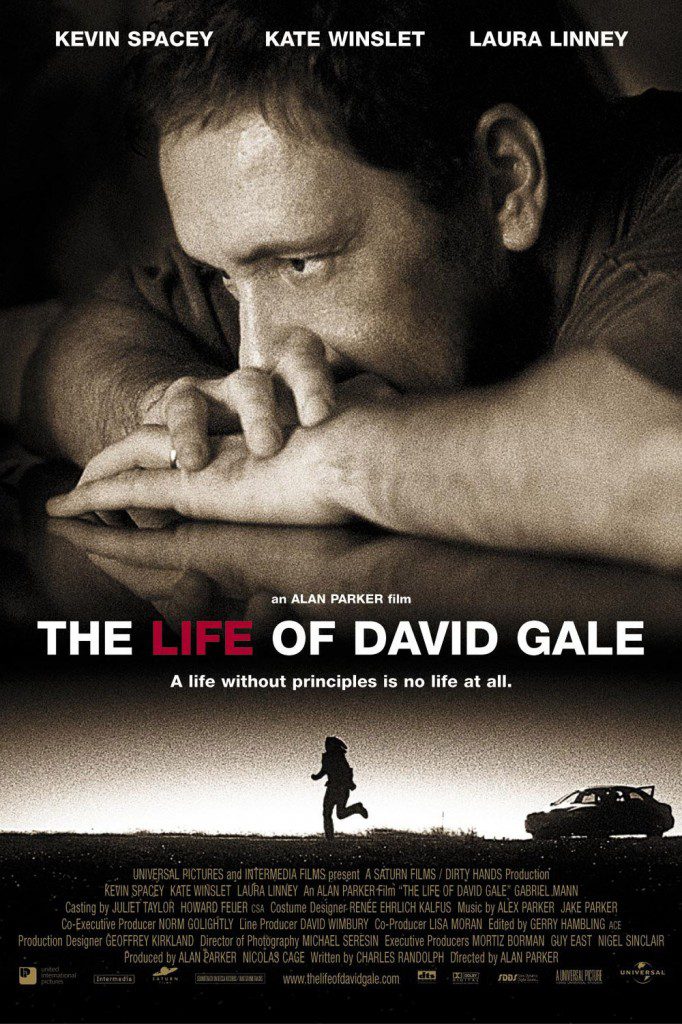 On the 10th anniversary of the release of The Life of David Gale (SPOILERS FOLLOW), I wanted to revisit an essay I wrote about it when it was released. The film is a fictional story about a man who opposes the death penalty and ends up on death row for the rape and murder of a woman, his best friend, who works for an anti-death penalty organization. At that time many critics deemed David Gale to be a "heavy handed" message movie. Perhaps, but I think it opened a door to talk about the social construction of language and meaning surrounding the death penalty.
The Life of David Gale was directed by British director Alan Parker (Angela's Ashes, Evita, The Commitments). Since then Parker, an English filmmaker whose movies have won nineteen BAFTAs, ten Golden Globes and ten Oscars, has not made another film. I wonder why. David Gale did not do well at the box office, grossing just under $20 million domestically and $19 million worldwide. But films about the death penalty are seldom box office hits though they can win awards: Dead Man Walking, (1995) based on a true story, won a Best Actress Oscar for Susan Sarandon; The Green Mile (1999) a fictional story by Stephen King, was nominated for and won many awards; Conviction, (2010) also based on a true story, received numerous awards. Werner Herzog's 2011 documentary Into the Abyss about the death penalty in Texas, is one of the most compelling films about the soul wrenching effects of capital punishment on people involved, from guards to executioner, to family, to clergy and beyond.
Since The Life of David Gale was released, five U.S. states abolished the death penalty bringing non-death penalty states to 17. This film may or may not have influenced this change. What is known is that through DNA testing there have been 303 post-conviction exonerations since 1989, 18 of them death row inmates (via The Innocence Project). Alan Parker had some experience with the culture of the American South from his time making Mississippi Burning (1988). Parker told journalists when The Life of David Gale was released that he was not making a movie "pro" or "con" capital punishment in Texas (symbolic of the whole USA). Instead, he wanted to make a film that would prompt people to talk about the subject. I think he reached his goal.
In what turns out to be a tale of "sex, lies and videotape," Dr. David Gale (Kevin Spacey), is a Texas philosophy professor who quotes French psychiatrist Jacques Lacan's theory of fantasy to students: as soon as you get what you want, you don't want it anymore. Gale is a husband and father of a young son whom he adores. He is an anti-death penalty activist and passionate spokesperson for an organization that works to outlaw it.
Gale works with friend and colleague Constance Hallaway (Laura Linney) ….
Click here to continue reading my essay The Life and Lies of David Gale