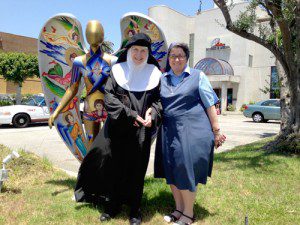 Culver City was once home to Metro-Goldwyn-Mayer Pictures, old Hollywood style successes and has had its share of controversy, including the young actress who turned her back on Hollywood to join a convent.
Dolores Hart, the first to kiss Elvis Presley on the screen and the top-billing actress in MGM's highest grossing 1960 movie Where the Boys Are has come back to town, 50 years after her last movie.
The former starlet left behind the glitz and stardom to answer to a higher calling- that of a cloistered nun in the Benedictine women's monastery in Bethlehem, Conn.
Now known as Mother Dolores, the prioress of Regina Laudis monastery, has just published "The Ear of the Heart," a memoir of her life on screen and behind the convent walls to explain her decision and share her life's path.
"I never wrote the book with the intent of producing a message. It is CLICK HERE to continue reading
 Pauline Book & Media Center
3908 Sepulveda Blvd
Culver City, CA 90230
310-397-8676
PARKING: behind the office building next door at 3912 Sepulveda Blvd or along Bentley Ave, one block east and parallel to Sepulveda Blvd.
We will see the film "God is the Bigger Elvis", Mother will give a short talk, Q&A and then book signing.