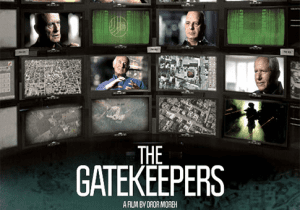 "The Gatekeepers" (2012) is a documentary with candid interviews with six former heads of the Israeli secret service, Shin Bet, and the oft times brutal tactics, "strategies" Israel used to control Palestinians and maintain ceasefire rather than creating a plan to construct peace. This lack of a plan for peace with non-Jews in their midst and along their borders led Shin Bet to miss growing signs of unrest between religious Jews and secular Jews resulting in the assassination of Prime Minister Yitzhak Rabin in 1995.  As complex as this sounds, "The Gatekeepers" surprised me just as its history and activities shocked me.
The film is a sign of hope to find a lasting and just peace in Israel and with the country's neighbors when these men, who oversaw and commanded so much violence, realize that violence will get Israel nowhere in the end because neither religion or Israel's neighbors are going away.
"The Gatekeepers" is a film worth watching, talking about, because it motivates peace-building for all. I learned recently (at a lecture given by Rev. Norbert Hoffmann, Secretary of the Pontifical Commission for Relations with the Jews at Los Angeles' Museum of Tolerance) that the Vatican's view is for a two state solution to the conflict between Israel and the Palestinians. May it be so and soon. "The Gatekeepers" are saying that what they have done so far has solved nothing so why keep the insanity going (re: Einstein's famous statement) and try something new. This is what I heard and saw in the film.
From the publicity for "The Gatekeepers" that will be released on DVD on July 9th:
THE GATEKEEPERS, for which director Dror Moreh was able to convince six heads of the Shin Bet, Israel's Secret Service, to speak candidly for the first time about their experiences during more than 30 years of Israeli/Palestinian conflict.  In explaining his determination to bring the perspective of these "gatekeepers" to light, Moreh says, "No one understands the conflict between Israel and the Palestinians better than these six men. When they speak, leaders listen. Perhaps the time has come for the Gatekeepers to address the people at large, and not just the inner circles of decision-makers."  Special features on the Blu-ray and DVD will include a commentary and Q & A with Moreh.