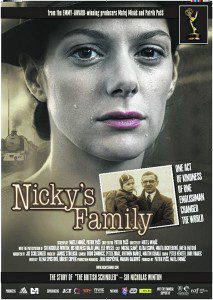 This inspiring and well-made docu-drama tells the story of Nicholas Winton, a British citizen who has earned the title of Prague's Schindler for saving 669 Czech and Slovak Jewish children as the Nazis began invading European countries in 1939.
Nicky was single, in his 30s and worked in finance, the family business. His family had immigrated to the U.K. years before and converted from Judaism to Christianity He found himself in Prague on business when a Jewish mother approached him as a foreigner to help get her child the country fearing rumors of a Nazi invasion. More parents lined up and the Nicky began using his connections, with the help of two associates, to organize. Nicky returned to London to arrange placement for the children and overcame many obstacles until the children's train began traveling toward the coast toward England.
What is remarkable about Nicky is that after the war he stored the records of his activities in a suitcase and didn't say anything about his involvement in saving the children. When he married he stored the suitcase in the attic of his home. In the late 80s his wife finally got curious and opened it, astounded at the documents and transport plans she found. She told the story to the BBC and as the 50th anniversary of the transport arrived the BBC invited Nicky to be a guest in the audience for a chat show without telling him why.
The host of the show then introduced Nicky and told his story, to Nicky's great surprise and humble embarrassment. After a few moments she said, "Will all those who were saved by Nicky's actions in World War II please stand? And the entire audience did. Just writing this brings tears to my eyes; it is an incredibly moving scene. This is a documentary about a man for all seasons.
"Nicky's Family" is a beautiful story and those grown children and their 6,000 descendants have created and actively participate in an organization to assist undernourished and sick children today, to pay forward the gift of life that Nicky's efforts gave them. At 104, Nicky still lives in England.
BK rating (bring Kleenex)