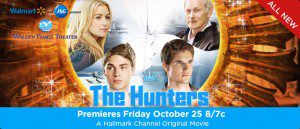 The Hunters
Hallmark Channel
Walden Family Theater
Friday, October 25 8/7c
A new Walden Family Theater movie on the Hallmark Channel debuts tomorrow night staring Victor Garber (you know him from Argo and TV's Alias) and Michelle Forbes (The Killing). The "family" movie is based on Joshua Williamson's comic book "Mirror, Mirror" and features, of all thing's Snow White's mirror.
Husband and wife team Carter (Dan Payne) and Jordan Flynn (Forbes) placed their sons Paxton (Robbie Amell) and Tripp (Keenan Tracey) in boarding schools so they could go around the world hunting, in order to protect, fairy tale artifacts. They are very wealthy and when the boys are grown they finally realize what their parents are up to when they disappear. With the help of Dylan (Alexa Vega, Paxton's love interest, too) they set off to solve the mystery of their parents' whereabouts and what's going on with putting Snow White's broken mirror back together again.
The Walden Family Theater is sponsored by Wal-Mart and Proctor and Gamble as well as the Hallmark Channel. It's all about family viewing.
I was not pleased to see how weaponized this story is granted that it's a comic book and all. I think everyone is using something like a dart gun-bow and arrow combination that doesn't look so threatening and there's no blood, but there is a lot of implied violence and peril. It's a better than average "family" movie but you'll have to decide if your kids are old enough for this. I think the 10+ age would be about right. But do talk about the violence because no matter what, violence is not the way to solve problems and this is my biggest gripe with this "family" film.
Sure, there a strong "family togetherness" theme and lots of adventure – and the production qualities are right up there. No one would ever buy the premise of the story but there must be fans of the comic book out there. The best actor, and the most promising, is Keenan Tracey. He's very smart and believable as the nerdy younger brother.
And you don't even have to look too hard to see Wal-Mart's product placement. The camera savors the logo for a bit too long.