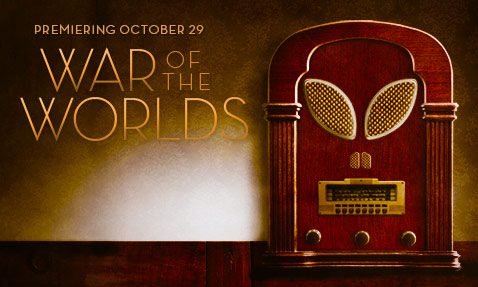 "War of the Worlds," PBS American Experience
9 p.m. Eastern time Tuesday (Check local listings)
In 1938, Americans might let their car payments go or give up their telephones, but 80 percent of American homes had a radio. Listeners tuned in for entertainment but became used to the edgy intrusion of news bulletins with bad news interrupting programming.
Exactly a month after the Munich Agreement, a pact that allowed Nazi Germany to annex part of western Czechoslovakia, and after months of hearing the drumbeats of Adolf Hitler and the possibility of war in Europe leading up to that agreement, at 8 p.m. Eastern time Oct. 30, 1938, CBS and Orson Welles announced The Mercury Theater on the Air program for the evening, H.G. Wells' "War of the Worlds."
"We know now that in the early years of the 20th century, this world was being watched," began the narration — and the rest is history. It was an updated version of Welles' original 1898 account of an invasion of the British countryside, and if you were listening at the beginning, you knew it was theater. But most people were listening to a popular ventriloquist on "The Chase and Sanborn Hour" on NBC, and when there was a musical interval by Nelson Eddy, people began dial twisting — the modern equivalent of channel surfing — and came in just in time to hear dire news of an alien invasion and missed the announcement.
This hourlong documentary explores many of the elements that created the context for such a strong reaction to Welles' reporting of an alien invasion from Mars in Grover's Mill*, N.J., on Halloween eve in 1938.
"Fear, anxiety, and foreboding of the future" were the dominant emotions of the time as the country emerged from the Depression …
Click HERE to continue reading about "War of the Worlds" on my blog at the National Catholic Reporter