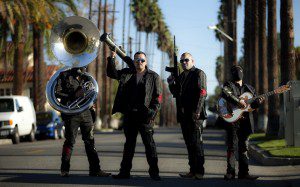 "Narco Cultura"
102 minutes, in English and Spanish with English subtitles
Just when some think border fences between the U.S. and Mexico are stemming the tide of undocumented people coming north, their status as problem-solvers appears to be that of a managed image to mask the real threat to the U.S: illegal trafficking in guns and drugs that is facilitating a tragic conflict in Mexico.
What U.S. citizens are not seeing is how the Mexican war on drugs is fueled by arms from the U.S. and Mexican government corruption and how the Mexican drug cartels have murdered thousands of their own people each year since President Felipe Calderon announced the "war on drugs" in 2006. The Los Angeles Times called Calderon's time as president the bloodiest since Mexico's civil war a century ago.
Seeing Juarez again as a city of death reminded me of the unsolved deaths of almost 400 women in that city that has been documented in film, such as Gregory Nava's 2006 film "Bordertown," and in the news since 1993.
Meanwhile, since 2006, a subculture of music is on the rise in the U.S. and Mexico: "
narcocorridos,
" or 
narco
 folksongs, which glorify cartel leaders and their criminal and Robin Hood activities for their local towns and villages. In fact, the CDs are sold in family-friendly Wal-Mart and Target stores and on iTunes.
In this new documentary, "Narco Cultura," director Shaul Schwarz explores the pop culture influence of the drug cartels and gangs north and south of the border. He also exposes a chilling paradox: the political and government corruption in Mexico and its state-of-the-art CSI lab in the city of Juarez against the thousands of killings by the cartels, including of hundreds of women, that go unchecked and unsolved. Add to this
Click here to continue reading my review at the National Catholic Reporter