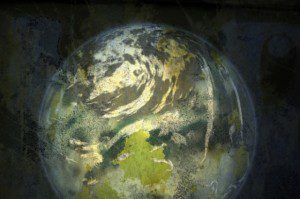 Movies can help us find perspective on our own existence by taking us to infinity and beyond.
Hollywood and the film industry have been called many things, including the "dream factory." Hollywood's constructed dreams are there for us to see and hear, and for better or for worse they engage our inner world of the imagination. Just as films make invisible realities visible, they give flesh to a person's subconscious and conscious hopes and desires. If they are effective, narrative fictional films, as well as documentaries, tell stories that engage the human imagination on so many levels: moral, ethical, scientific, spiritual, Catholic, and more. What you bring to the movie—your age, interests, beliefs, life experience, values, and expectations—largely determines what the movie will mean to you.
Science fiction provides a huge landscape for filmmakers to image other worlds, to go where no one has gone before, to escape an undesirable reality for another for reasons beyond curiosity. In 1902 French filmmaker Georges Méliès made the first science fiction film Le Voyage Dans La Lune, or A Trip to the Moon. Méliès didn't go very far from earth, as contemporary cinema often does. His story is told in the 2011 Oscar-winning film Hugo (based on the Brian Selznick's award-winning novel The Invention of Hugo Cabret), where we learn that early theatergoers did not appreciate Méliès' imagining of what a voyage to the moon, never mind the solar system, would be like. They preferred realism.
Georges Méliès' film, which can be found on YouTube, was a flight of sheer fancy, sequence after sequence of cause and effect with a happy ending for the voyagers. But as I watch the panorama of films about other worlds that appear in theaters today, the moon is not enough, and fantasy films have taken on an aura of gloomy reality.
Beginning with the surprisingly dark animated film WALL-E from Disney/Pixar in 2008, Hollywood began leaving earth behind.
CLICK HERE to continue reading at U.S. Catholic magazine