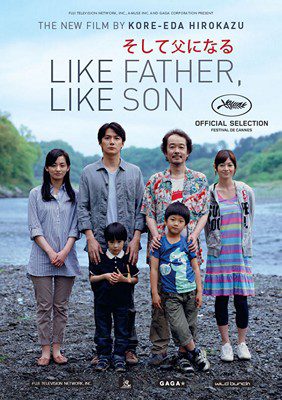 Ryota Nonomya (Masaharu Fukuyama) is a high-powered businessman in Tokyo. He lives with his wife Midori (Machiko Ono) and their six-year old son Kieta (Keita Ninomiya) in a high rise condo.  They are very well off and the parents make sure that Keita always behaves well. Ryoto, in fact, is quite demanding of young Keita.
One day the parents receive a telephone call that turns their world upside down.  The blood tests taken before Keita begins at a private school show that they are not his parents.. Two baby boys, born the same day at the same hospital, were switched at birth.
Lawyers try to guide the family about what to do.  After much agony on the part of Ryota and Midori, the families decide to meet.
But the Saiki family is nothing like the Nonomiya's. Yidai (Riri Furanki) is easy-going and a rough and tumble father who loves to play with his kids. The Saiki family lives in an old house and Yidai repairs things for a living. Ryota is horrified but Midori is thoughtful. Ryusei, the son that Yidai and his wife Yukari (Maki Yoko) have raised, is intelligent but questions things openly, unlike the compliant Keita. He is also hooked on video games, something the gentle Keita does not do.
What will these two sets of parents do? What ought they do?
"Like Father, Like Son" is a profound and engaging family drama about what it means to be a father. When giving the film a commendation at the 2013 Cannes Film Festival the Ecumenical Jury  wrote: "At what point does a father actually become a father? Two couples from different social backgrounds discover that their sons have been exchanged at the maternity ward. The film deals in a simple and subtle way with a human dilemma: are blood ties more important than the love which bonded them for six years?" "Like Father, Like Son" also won the Jury Prize at Cannes.
At the press day for the film director Kore-Eda Hirokazu ("After Life") explained that his film explores what it means to be connected and suddenly disconnected.  The focus of the film is on paternal identity and how fathers love their sons. Hirokazu said that "…becoming a father is not something you do on your own – your child makes a father out of you and Ryota learns this as the story plays out."
There are many poignant moments in this original film and I liked it very much.  You really feel the pain of the parents and their heartbreaking inner journey  to do what is right.  The two mothers express much sympathy for the other and approach the situation on different levels than the fathers. The emotional depth of the film is expressed especially in the grieving process that all the characters have to go through and how it changes them – ultimately for the good. Forgiveness is another strong theme in the film. When Ryota learns who was responsible for what happened, he encounters another son who will do anything for his mother.
"Like Father, Like Son" is an exquisite film about humanity.
DreamWorks has acquired the rights to make a U.S. version.
In Japanese with English subtitles.