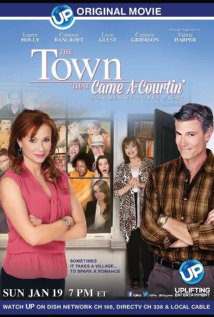 The UP Network = Uplifting Entertainment and their first offering this year is The Town Came A-Courtin' starring Lauren Holly, Valerie Harper, and Cameron Bancroft. The UP Network used to be GMC, the Gospel Music Channel.
The Town Came A-Courtin' is predictable, sweet and uplifting romance story told in a Hallmark way. It says on the packaging that it is "inspired by a true story" but as far as I have been able to tell it's based on a 2005 novel by the Southern novelist Ronda Rich.
It's fine for the whole family though I think females may be more likely to watch.
Lauren Holly plays a Southern author who goes to Bliss, MS, on a book tour. The owner of the B&B (Harper) where she stays wants to set her up with the town mayor (Bancroft) who is a widower with two kids so she sets the town's prayer chain into action. Meanwhile everyone's plans are upset when a disturbed fan carries out plans of his own.
Not to worry, love wins the day but I cannot tell you how. You will have to watch.
I was very pleased to see that I am very familiar with one of the production companies: Paulist Productions here in LA (who gave us Romero and more recently co-produced Christmas for a Dollar (2013).
Valerie Harper, who diagnosed with lung cancer in 2009 announced last March that cancer cells had invaded the membranes surrounding her brain and she was given a very short time to live. However, she looks very well in this new television film and her inner light shines through.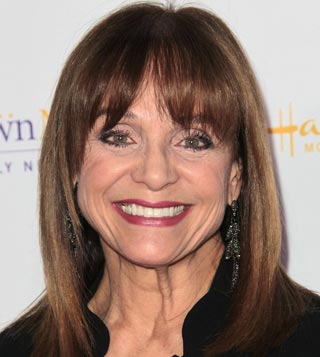 My main criticism is that the audience is obviously for middle class to upper middle class white women or those who used to be (I think there were only one or two African Americans in the film). It tries to be edgy with the dramatic twist but it remains mild and inoffensive in every way throughout. It is a film aimed at the faith & family audience and makes the grade well enough. It's filled with sweetness and light even when there's some peril. If what happens here really did happen it would have been terrifying, even to a woman of faith.
Is this real life? That depends. And most romance novels (and movies) are more about imagination than reality anyway.
Does this challenge our humanity and Christian faith, our comfort? Hmm. You'll have to decide that one.
Click here for more movies from UP