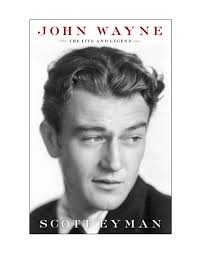 This morning's New York Times Book Review section has a highly enthusiastic review of Scott Eyman's new biography of John Wayne by director (and former journalist) Peter Bogdanovich: ""Playing John Wayne: Scott Eyeman's 'John Wayne: the Life and Legend.'"  Bogdanovich, who knew "The Duke" for about fifteen years – much longer than the author – reveals his own admiration for the iconic actor and makes you want to read the book.
Loyola Press has a special online webpage called "Arts and Faith." At Oscar time this year they asked me what my favorite film is and I told them that it almost an impossible question to answer. But if I had to choose … It's John Ford's 1956 film "The Searchers" starring John Wayne. Click here to see my full reply  (and see the favs of Fr. James Martin, SJ and Cardinal George of Chicago – and Pope Francis.
Cinema influences the culture. John Wayne, who never went to war, lives in the imagination as one of the biggest heroes ever because of the status conferred on him by the film industry – and crafting by directors such as John Ford and Howard Hawks. Their Westerns and war films continued to mould American's own idea of itself right into the 21st century and John Wayne' iconic stature plays/ed a huge part in it.  Bogdanovich's recap of how Ford used the camera instead of sound to create a film giant in "Stagecoach" is fascinating.
The conceit of the doctrine of "manifest destiny" rides high in  the westerns of Ford and Hawks and this influence bears thinking about as it contributes to the political decisions of the United States.
Can't wait to read the book.
Great review, Mr. Bogdanovich.