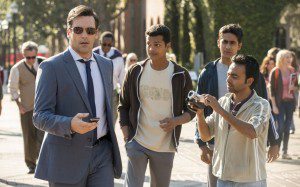 "Belle" — This film is based on the true story of Dido Elizabeth Belle (Gugu Mbatha-Raw), the illegitimate mixed-race daughter of a British sea captain (Matthew Goode) in the 18th century. Belle grows up with a cousin in the mansion of her uncle, Lord Mansfield (Tom Wilkinson), the chief justice of England, and his wife (Emily Watson). It is a story about the power of cultural mores and the law when England was beginning to challenge the legitimacy of the slave trade. Belle influences her uncle in a case that begins the process of bringing the slave trade to an end. Fine acting, excellent production values and most artistically framed, both visually and as a story.
"Million Dollar Arm" — Based on the true story of a desperate sports agent, the movie follows JB (Jon Hamm), who goes to India to find the next great baseball players. He sets up a reality show with an aging baseball scout (Alan Arkin) and manages to discover two young athletes who know nothing of baseball, Rinku (Suraj Sharma) and Dinesh (Madhur Mittal), but who throw the ball at 84 mph the first time they try. JB brings them back to Los Angeles, where they start learning and playing baseball and suffer culture shock. JB goes from being a desperate jerk to a human being — and then there's baseball. Lake Bell plays Brenda, a medical student who rents the guesthouse behind JB's home, and she becomes the mother figure to the homesick lads. It's about family; it's funny and touching. I liked it — if only there had been a message at the end saying that Disney was developing a sports academy for poor children in India with the proceeds from the film!
"Chef" — This is a food/road-trip movie with a lot of heart. The master chef of a trendy Los Angeles restaurant, Carl (Jon Favreau, who also directs), is fired ….
Continue reading on my blog at the National Catholic Reporter