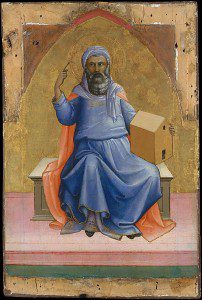 Noah by Lorenzo Monaco, 1370-1425
On May 16 the Metropolitan Museum of Art announced a new open access policy that allows users to browse and download images for non-commercial use:  The Collection Online:
"… more than 400,000 high-resolution digital images of public domain works in the Museum's world-renowned collection may be downloaded directly from the Museum's website for non-commercial use—including in scholarly publications in any media—without permission from the Museum and without a fee. The number of available images will increase as new digital files are added on a regular basis."
You will know if you can download an image by clicking on the small image first; it brings you to the webpage for the image. If you see OASC (Open Access for Scholarly Content) in a little box underneath, you can download this image and use it non-commercially.
This initiative is a treasure trove for bloggers and webmasters of parish websites – but remember, non-commercial use. If you want to use an image on a book cover you still have to go the regular route.