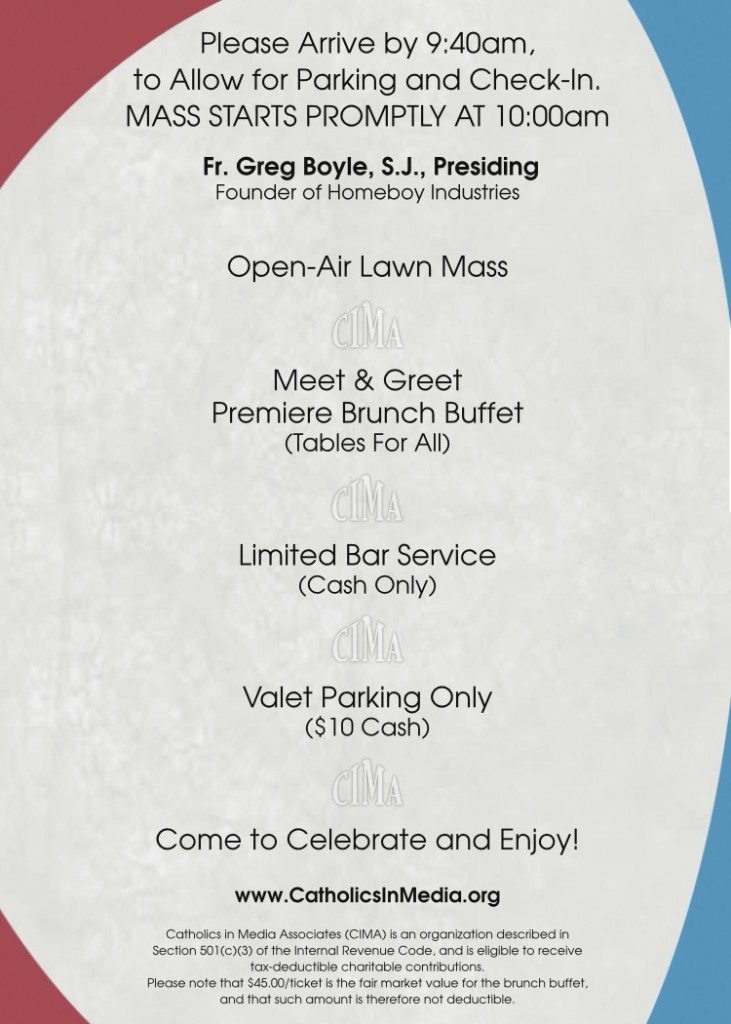 Do consider coming to our annual awards event this year on June 1! The invitation is above. For tickets click here on Catholics in Media Award Tickets (and for advertising opportunities). Participating in the Mass overlooking the Pacific Ocean is beautiful.
Cesar's Last Fast is a feature documentary film about the private sacrifice and spiritual conviction behind Cesar Chavez's struggle for the humane treatment of America's farm workers, and the impact of Chavez's legacy. The film is built around powerful, never-before-seen footage of Chavez's 1988 "Fast for Life," a 36-day act of penance.  CIMA is drawn to the film's strong Catholic and spiritual principles and imagery.  Migrant workers gather around the bed of a pick up truck parked on the fields roads for the sacrifice of the mass.  This was how Cesar got the workers out of the field so he could talk to them.
The breaking of the fast with the Eucharist and the symbolism this represents runs deep with our Catholic roots and social justice campaigns.
CESAR'S LAST FAST recently screened at the RE Congress Film Showcase. Here is My interview with the director of the film Richard R. Perez:
CBS News Sunday Morning is an American television newsmagazine program which has aired continuously since 1979 is consistently an indepth story angle on each subject.  Consistently uplifting but often poignant.  A CIMA is awarded for the show's longtime commitment to storytelling and providing uplifting and entertaining perspectives.
This clip about Fr. Boyle and Homeboy Industries is inspiring and showcases many of the authentic stories that the show has told over the years on Sunday morning. We are so pleased that Fr. Greg Boyle, S.J. is presiding.  Founder of Homeboy Industries a portion of the event proceeds will benefit Homeboys.  Fr. Boyle's penning of TATTOOS ON THE HEART will make you both laugh and weep over gang triumph and tragedy.
The Monuments Men – Based on the true story of the greatest treasure hunt in history, The Monuments Men focuses on an unlikely World War II platoon, tasked by FDR with going into Germany to rescue artistic masterpieces from Nazi thieves and returning them to their rightful owners. It would be an impossible mission: with the art trapped behind enemy lines, and with the German army under orders to destroy everything as the Reich fell, how could these guys – seven museum directors, curators, and art historians, all more familiar with Michelangelo than the M-1 – possibly hope to succeed? CIMA was drawn to the fight to save not just art works but a culture.
Michael Harney is excited to be CIMA's Master of Ceremonies coming off a hot streak of work.  An actor from Netflix's ORANGE IS THE NEW BLACK, he was a detective in WEEDS and is not in the new series THE NEW DETECTIVES.
F.X. Tobin a PR professional and long-time member of Catholics in Media Associates, is the Honorary Chair.