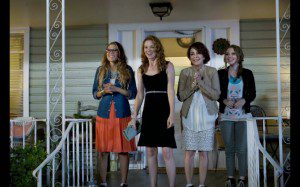 Right on time for Mother's Day comes "Moms' Night Out," an angst-ridden comedy from Sony's Affirm Films, a label aimed at evangelical Christians, and Provident Pictures, that has given the faith audience "Fireproof" (2008) and "Courageous" (2011).
Allyson (Sarah Drew) is mother to three and married to Sean (Sean Astin), an architect who travels a lot. She is also a mommy blogger without any followers. She obsesses over germs and being a perfect mother, and seems addicted to the very chaos she creates because she is so anxious.
Sean is flying home on Mother's Day so Allyson drags the kids to church where Sondra (Patricia Heaton), the pastor's wife (Pastor Ray is played by Alex Kendrick), deals with her own needy teenager while greeting the faithful. Sondra offers to help Allyson but Allyson insists on doing it all herself and takes the kids downstairs to the child care and Sunday school area where her friend Izzy (Andrea Logan White) is in charge of the pandemonium. Allyson, her hair a mess, slogs back upstairs and climbs over people to a place in a pew.
Later that week, Allyson and Izzy attend the worst church book club meeting in the world and they notice that Sondra is as stressed as they are. Allyson has a Groupon coupon to a nice restaurant so they text Sondra that they are going to have a moms' night out so they can all de-stress. Sean, and Kevin, Sean's unmarried, lover of violent video games friend (Kevin Downes) and Izzy's insecure husband, Marco (Kevin Amaya), are baby-sitting all the kids.
The ladies dress up but when they get to the New Age-y restaurant something has gone wrong with their reservation and Allyson has a meltdown.
Finally, after this too-long set-up, the moms' night out caper takes off in a series of improbable cause-and-effect incidents that includes car chases, cops, bikers, a lost baby, an emergency room, lost cell phones, a bowling alley, and Trace Adkins, in that fantastic baritone voice, offering words of comfort to a stressed mom.
What is funny about "Moms' Night Out" is … CLICK HERE to continue reading at National Catholic Reporter and why I had trouble reviewing with "Moms' Night Out" as a Christian film…
Here's my on camera review on The Inndustry with Sister Rose: