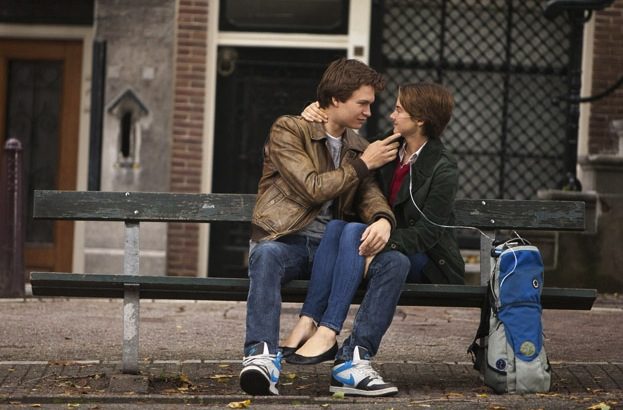 Hazel Grace Lancaster (Shailene Woodley) is in her 17th year of life and fourth year of thyroid cancer. The chemo has severely damaged her lungs, so she needs constant oxygen. She doesn't go anywhere without the tank and plastic tether that keeps her going.
Her mom, Frannie (Laura Dern), drops a less-than-enthusiastic Hazel off at the local Episcopal church so she can join in a support group for teens coping with cancer. The group leader, Patrick (Mike Birbiglia), is a cancer survivor who means well and tries to spiritualize with their experiences by having them sit around a rug he's made with Jesus' Sacred Heart in the center. Isaac (Nat Wolff) has already lost one eye to cancer and will soon lose the other and his gorgeous girlfriend. His ride to the group is his friend Augustus "Gus" Waters (Ansel Elgort), who has been cancer-free for a year and a half. He lost one leg from the knee down in his effort to survive.
Gus cannot take his eyes off of Hazel, and he asks for her full name. From that point on, he always calls her "Hazel Grace." She mostly calls him "Augustus Waters." When they walk outside, Gus puts a cigarette in his mouth, and Hazel Grace is astounded that he fought cancer but is going to smoke something that will give him cancer again. But he explains that he will not light it as it is a metaphor: to put that which will kill him in his mouth and not give it the power to kill him.
And their little infinity within infinities of a love story begins.
I almost don't want to tell you any more of the story. I want you to see the film and read the book by John Green, who was once a chaplain at a children's hospital. I want you to feel the intelligence and wit of the characters and hear, really hear, the voice of the story's teller, Hazel Grace. I don't know who would name their child Hazel these days (except for Julia Roberts), but the name means "commander." If you research the name further, it is said that those with this name are good at analyzing and understanding, that they desire love, family and a stable home. Combined with the name "Grace," which means blessing and brilliance, we have a picture of our heroine. She is a strong, magnetic young woman filled with strength and blessing. Hazel Grace wants to live for the moment, unsure of what comes next.
Then there is "the metaphorically inclined" Augustus Waters, age 18. His name means "majestic," "grandeur," "magnificent" and "dignity." When you see the film, you will see that Augustus is a transformative character whose beauty and bearing reveal a sharp intellect, wit, and a great heart. Augustus has one fear: oblivion. That he will die and no one will know he has ever lived.
I don't want to tell you that Hazel Grace's hobby is reading and rereading a book, An Imperial Affliction, by her favorite author, Peter Van Houten (Willem Dafoe), an American living in self-imposed exile in Amsterdam. The main character in his book CLICK HERE to continue reading at the National Catholic Reporter