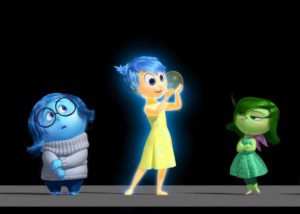 The news that Pixar and Disney are creating a story with an average (white) girl really captured my attention. "Inside Out" is to be a story about an 11-year old girl named Riley who is becoming an adolescent. The film will deal with five key emotions, especially Joy (voice of Amy Poehler) that work to keep Riley in balance. The "emotions" (according to a studio presentation) are not made out of "flesh and blood" but "energy".
Please give this article a read.
it's a wonderful idea but what I hope doesn't happen is that Riley turns out to exhibit multiple personality disorder (that some parents may think adolescents already do as a matter of course).
Pixar/Disney: There seem to be a lot of men involved in the story and animation (and writing about what the film will mean to girls) but please don't forget to bring in the feminine creative perspective as well or you won't get it right. I don't think any of us want to have a film for girls, about girls, from a dominant perspective that is mostly male.
Disney/Pixar is going to have to tread this one carefully but I say "kudos" for listening to those of us who have been complaining for years about Pixar's lack of female protagonists and Disney's infatuation with skinny princesses (except Merida in "Brave" but she was a brat) and saccharine endings.
SLATE'S CULTURE BLOG
What Pixar's Inside Out Will Mean to Girls
an article
titled, "Dear Pixar, From All the Girls With Band-Aids on Their Knees." The entreaty? "Please make a movie about a girl who is not a princess."
In 2009, NPR writer Linda Holmes had a simple request for Pixar, one she put forth in
At that point, Pixar hadn't made a movie that starred a girl at all. Yes, there were important female characters in many of the company's most beloved films, like Jessie from Toy Story and Dory from Finding Nemo, but none who could truly be considered the lead of her own movie. Most Pixar films unequivocally starred a male character—or often two, since the studio has made several buddy comedies. "The story is never 'a girl and the things that happen to her,'" wrote Holmes, "the way it's 'a boy and what happens to him.'"
That will soon change, and in a big way. After delivering its first female-led film with 2012's Brave, Pixar brass came down to Los Angeles June 20 to preview their big title for next year, Inside Out, which is completely princess-free. It takes place in the mind of a little girl named Riley, but she's not exactly the lead; instead, thanks to the ingenuity of Pixar, Riley is more like the setting.
The film's real protagonist is Joy (voiced by an effervescent Amy Poehler), one of five emotions who steer Riley through life via a control center in her mind that's akin to the bridge from the Starship Enterprise. Joy and her cohorts—including Fear (Bill Hader), Disgust (Mindy Kaling), Anger (Lewis Black), and Sadness (Phyllis Smith)—all work together to keep Riley emotionally balanced, and for the first 11 years of her life, the primary influencer is Joy, as evidenced by Riley's sunny demeanor.