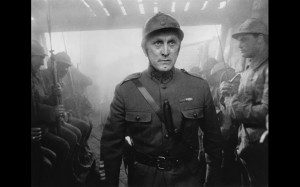 Just before Memorial Day, a friend who teaches in a Catholic high school wrote to me on Facebook that he and his daughter had just watched "Black Hawk Down," Ridley Scott's 2001 war film about the Battle of Mogadishu because she was studying Somalia. They really liked it. He then suggested that I ask my Facebook followers to share their favorite war movie and why.
I was stymied. Favorite war film? How can you have a favorite war film? These movies all recreate the very violence of the war story they tell. If British Prime Minister Winston Churchill said, "History is written by the victors," then who makes the movies and what ideology motivates them? If the war depicted is a war in defense of one's country or a nation's allies, or to stop genocide, was it the last resort? Did all efforts at nonviolent intervention and negotiation failed? Was it a just war? Or was it a war of choice? Because if the war was unjust to begin with, or a war of choice, who, then, are the heroes?
Here's a slightly edited version of what I messaged back to him:
"I feel so inundated with films that show the militarization of popular culture and the glorification of the U.S. military action in so many of the movies we make. I'd have to find a way to frame the question with some reflection. Like: Which war movie best reflects the teachings of Jesus in the Gospels? There are plenty of films that challenge the glorification and stupidity of war. So as a Catholic Christian, how would you frame the question to elicit thoughtful responses?"
He responded, "Good questions," and I didn't hear back from him on the subject.
Summertime is patriotically bookended by Memorial Day and Labor Day with Independence Day in the middle, so rather than solicit opinions, I decided to write a column on movies about war — movies that demonstrate the inhumanity, nihilistic futility, and violence of armed conflict, followed by a list of films about war, that in my opinion, do not glorify it. Please note that almost 100 films, mostly documentaries, have been made about the war in Iraq alone.
I recently reviewed "Korengal," noting that filmmaker Sebastian Junger's norm for judging the validity of a war is by how much suffering of people it will relieve — for example, U.S. intervention in Bosnia. In Junger's documentaries about the war in Afghanistan, he focuses on the harm to U.S. soldiers in a war of choice, something 
New York Times
 religion columnist Samuel G. Freedman wrote about in 2013: moral injury. Perhaps Junger's next film will be about "collateral damage" — the thousands of innocents who die in wars or U.S. covert military actions.
Do you ever wonder why a police department in any city or town in the U.S. goes through such lengths to solve a cold case murder of one person? Yet don't the people we don't know, who are not Americans, who die as a result of our government's actions — "collateral damage" — count, too? Do not their lives cry out for justice as well?
"Paths of Glory" (1957): Directed by Stanley Kubrick and based on a 1935 novel by Humphrey Cobb, the film loosely refers to true incidents. French army Colonel Dax (Kirk Douglas), an attorney in his civilian life, attempts to defend his men against court martial after they refuse to continue a suicide mission. Although General Mireau (George Macready), who ordered the attack without written orders, knows it is futile, he insists and the mission fails. One hundred men are to be tried for cowardice but another general begs him to limit the number to three, randomly chosen from the three units involved. Idiotic decisions from ambitious generals are repeated throughout history, and to what end?
"Gallipoli" (1981): Directed by Peter Weir, the film focuses on two young men from Australia, Frank (Mel Gibson) and Archy (Mark Lee), who end up fighting CLICK HERE to continue reading at the National Catholic Reporter