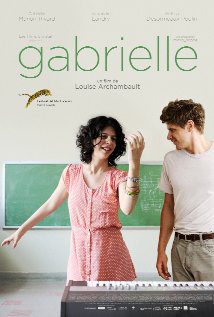 Gabrielle (Gabrielle Marion-Rivard) is a 22-year old woman who lives in a group home for cognitively disabled adults in Montreal. She has Williams Syndrome, a genetic disorder whose symptoms include hyper-socialization, heightened musical skills,  and intellectual disability. Gabrielle is very close to her older sister, Sophie (Mélissa Désormeaux-Poulin) who has her own apartment and longs to go to India to be with her fiancé but feels responsible for Gabrielle. Their mother, (Isabelle Vincent), doesn't understand Sophie, and is busy and happy to have Gabrielle taken care of in a home.
Gabrielle belongs to a choir comprised on cognitively handicapped adults and she is attracted to Martin (Alexandre Landry) as he is to her. Complications arise when  Martin's mother (Marie Gignac) becomes concerned that the two young people may start an intimate relationship. All of this is happening as the choir prepares to perform with Robert Charlebois, a real French Canadian musical star who encourages the singers and musicians.
"Gabrielle" works on many levels. It's easy to take Gabrielle's side, to want her and Martin to have a normal life. On the day Gabrielle goes apartment hunting on her own, you can feel her deep longing to be like everyone else.  When Martin's mother meets with the team that runs the home and choir they are on opposite sides and all of the issues regarding special needs young adults come to the fore. Don't they have a right to be like everyone else? And what if they have children? Who is responsible? Does Sophie have a right to her own life? Should she feel guilt for following her own life? Does their mother jettison her responsibilities for Gabrielle, even to the point of ignoring her, just because the state takes care of her? Does Martin's mother have a right to keep him from romantic relationships?
These are all good people who care, even Gabrielle's mother.
"Gabrielle" is authentic and ultimately caring. The film asks more questions that it answers, but the important thing is that we, as a society, care for the weak and vulnerable among us, in ways that respect their personhood as much as we respect our own.
"Gabrielle" is in French with English subtitles.