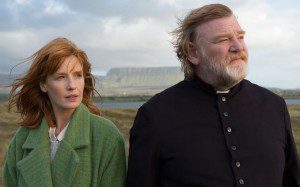 It's present day in County Sligo, Ireland, and Fr. James Lavelle (Brendan Gleeson) is sitting in the confessional waiting for penitents. A man begins speaking, telling about the horrific sexual abuse by a priest that he endured over several years. Lavelle asks him if he's reported the priest. No, he's dead. Are you getting help? You mean therapy so I can move forward with my life? No.
Then the man tells Lavelle that he is going to kill him, because what good would it do to kill a bad priest? No, he isn't going to kill Lavelle now. Instead, he tells Lavelle to meet him on the beach on Sunday morning, a week away.
Lavelle speaks with Bishop Garret Montgomery (David McSavage) and they quickly, and accurately, establish that the seal of confession does not apply because the man didn't state his sins or ask forgiveness. The bishop asks if Lavelle knows who the man is and Lavelle admits that he does. When Lavelle asks if he should report the threat to his life to the police, the bishop says, oddly, that it's up to him to decide what to do.
In "Calvary," Gleeson gives a superb performance and is totally believable as a good priest carrying a burden he never asked for. In one of the saddest moments in the film, Lavelle is taking a walk down a country road and comes upon a young girl walking toward the beach. They start up a conversation but when the girl's father drives up in search of his daughter, he screams at the priest, grabs the girl and drives away. What's wretched about this scene is that it highlights the broken trust caused by the clergy abuse scandal and ensuing cover-ups. What will it take to change this? That a good man lay down his life for others?
One of the first things Lavelle does is to  CLICK HERE to continue reading my review at the National Catholic Reporter