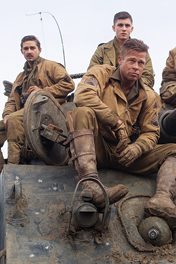 It is 1945. The Allies are pushing deep into Germany after the invasion at Normandy. In the opening scene, Army Sgt. Don "Wardaddy" Collier (Brad Pitt) commands a tank crew of four soldiers. When they arrive at an Army rendezvous, the very young Norman (Logan Lerman) is assigned to the unit. He has been in the Army for two months, and is unprepared for the horrors he will face.
Wardaddy and his men lead a battalion to take over a town and then head to a crossroads that they are to hold. They quote Scripture to one another and talk about religion. It becomes obvious that they believe in God because they are rightfully afraid.
Norman loses his innocence when Wardaddy forces him to kill a German soldier instead of taking the man captive. Little by little, Wardaddy breaks down the young man and reshapes him in his own likeness.
The soldiers form a close-knit bond of friendship and respect in the tank. Wardaddy is tough, but not without honor, and at this point in the war, he is tired and hardened. Pitt's performance—as well as that of Shia LaBeouf, Michael Peña, Jon Bernthal, and Lerman—are entirely believable.
It is hard to know why writer/director David Ayer even wanted to make the film. It celebrates war as if it were a video game, while showing the moral injury to the soldiers who go against their consciences and kill. If you've seen Saving Private Ryan or Band of Brothers, it is probably enough.
Read more reviews in my column Reel Time at St. Anthony Messenger