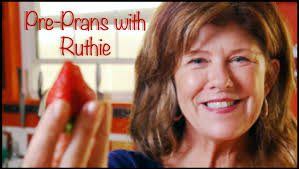 From the National Catholic Reporter about my stint on the Jesuit IN Network show "Pre-Prans with Ruthie" and making Grape & Gorgonzola Truffles. We laughed so much!
"Want to add something special to your Thanksgiving feast? Look no further! NCR contributor and host of The IN Network's INNdustry with Sr. Rose, Sr. Rose Pacatte and Ruthie Blacksea joined forces to make savory grape and gorgonzola truffles on this special Thanksgiving edition of Pre-Prans with Ruthie. In addition to the anyone-can-do-it recipe, Sr. Rose lets Ruthie in on her favorite Thanksgiving film AND shares her favorite beer selection for the occasion.
CLICK HERE to continue reading at NCReporter. Watch the video to find out my favorite Thanksgiving movie, too!
Thanksgiving blessings to all!