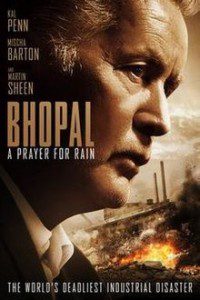 Dilip (Rajpal Yadav) lives in the city of Bhopal, India, which grew around a gigantic Union Carbide plant that was built to produce pesticides, especially methyl isocyanate (cyanide). By 1984, safety hazards are beginning to escalate—which are overlooked by management—and inspections by the authorities are minimal. When Dilip manages to get a job as a janitor at the plant, he is thrilled because he can provide for his nagging and worried wife.
Motwani (Kal Penn), the editor of the local paper, knows something is wrong at the plant. His headlines and investigative journalism irritate the authorities, but he never gives up.
Things get worse at the plant. The president of the company, Warren Anderson (Martin Sheen), comes to inspect the plant, but he vacillates between demanding repairs and evading litigation and responsibility. One night in December 1984, the plant leaks poisonous gas. There is hardly any antidote, and the clinic is overrun. Almost all the characters are doomed.
Director Ravi Kumar builds up the tension in a concentric fashion, looping in the victims and those responsible. The film also addresses the dignity of labor, because the power of profit over humanity is what often drives the global economy today.
CLICK HERE To see the review at St. Anthony Messenger.
Martin Sheen rarely plays a villain but here he carries it off quite credibly.
The film did not get wide release but it is certainly one that deserves our attention. As the old saying goes: those who do not remember history are doomed to repeat it. And we already have. Hollywood is warning us; is anybody listening?