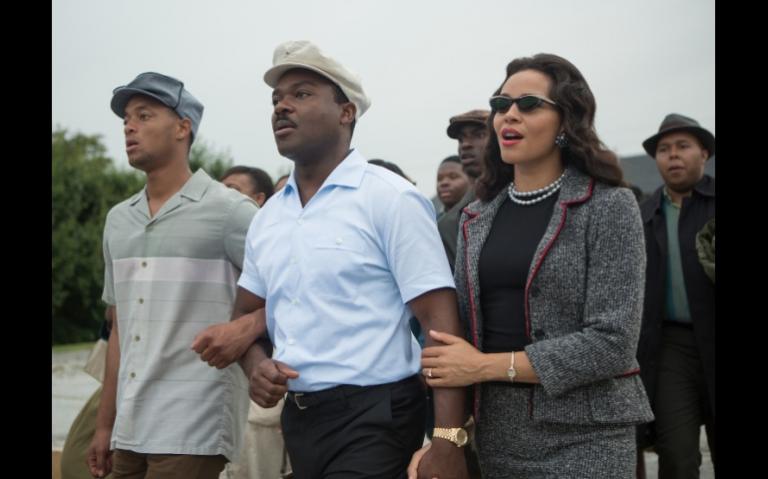 On July 2, 1964, President Lyndon Johnson signed the Civil Rights Act into law. It outlawed all discrimination in the United States for reasons of race, color, religion, sex, or national origin. Unfortunately, the act did not grant voting rights outright to all citizens. Southern states were making it almost impossible for African-Americans to register to vote because local registrars could arbitrarily place huge obstacles in the way.
For Martin Luther King Jr. — portrayed by David Oyelowo in the movie "Selma" — and his key advisers and other civil rights activists, it was time to bring the civil rights movement closer to full realization and push a voting rights act through the U.S. Congress.
Because violence against black people continued in the South, King and his colleagues plan a nonviolent protest march from Selma, Ala., to the capital of Montgomery across the Edmund Pettus Bridge and 54 miles along the "Jefferson Davis Highway." King finds resistance from Johnson (Tom Wilkinson), who complains that he has too many other pressing issues to deal with, and local student civil rights activists from Student Nonviolent Coordinating Committee, who are working slowly to register voters push back. King's wife, Coretta (Carmen Ejogo), calls him on his infidelities. Yet they, and even King's ideological adversary, Malcolm X (Nigel Thatch), eventually come around.
King wants the march to attract the attention of television because he knows how the power of visual media can sway public opinion. The first attempt, on March 7, 1965, ends in violence as 600 marchers were attacked by state and local police and turned back. They name it "Bloody Sunday." It was all caught on television, horrifying — and galvanizing — the nation. This was the one thing Alabama Gov. George Wallace (Tim Roth) didn't want to happen, but he did nothing to prevent it. That night, police murder a young civil rights worker, James Bevel (Common).
King called on religious leaders and people of goodwill to join him in acts of civil disobedience on the second march two days later. People from across the country, including religious leaders from different faiths and Catholic sisters, joined the march. The protesters faced off with the police, who stepped aside to let them pass. But King led a retreat because he feared the police on both sides of the bridge would move in and trap the people. King's decision led to misunderstanding among the organizers, but King feared violence.
The third march took place on March 21. The U.S. Army and the Alabama National Guard, led by federal agents, accompanied the marchers to protect them. The marchers arrived in Montgomery on March 25. And even when the battle seemed to be won, the KKK moved in and killed two of the marchers, one a white woman from Detroit.
I saw "Selma" several days before a controversy erupted accusing the film's director, Ava DuVernay, of gross unfairness in her representation of Johnson as a "villain" who obstructed the civil rights movement. I remember thinking during the film that it wasn't Johnson who told FBI director J. Edgar Hoover (Dylan Baker) to place King under surveillance, but that the FBI had been tracking him for years already. I spoke with actor Wendell Pierce — he plays the Rev. Hosea Williams, who marched with King — and asked him about the controversy. He said he believes the controversy is "fake" because "across the board, the film is a fair representation of what happened and the people who played a role in the events."
Certainly, the film is not a documentary, and the filmmakers have taken CLICK HERE TO CONTINUE READING at the National Catholic Reporter