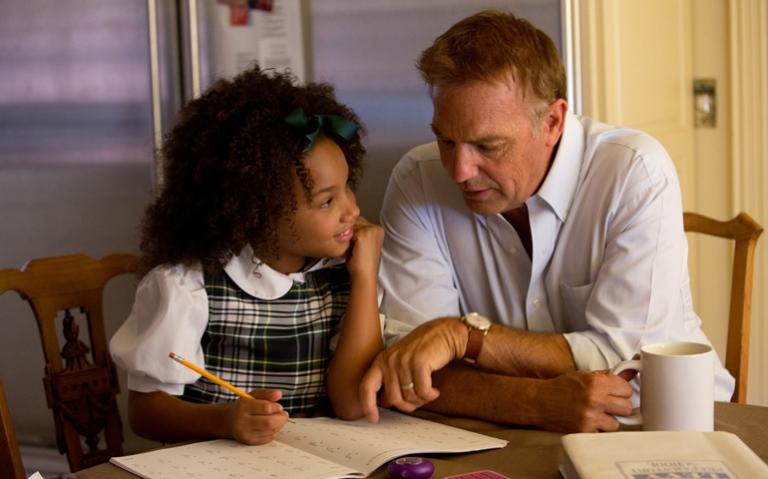 Mike Binder's new film, "Black or White," is being released right after the Martin Luther King Jr. holiday and in time for Black History Month. Its release comes after a tumultuous year of riots and marches motivated by the deaths of black boys and men at the hands of white policemen. But the film was in production long before these events because Binder had a story to tell that came from his own extended family. The timing for the release is fortuitous because, as Binder says, "It's time to move the conversation about race relations in America forward, to spark a new dialogue about how we can get along for the sake of future generations."
Binder and Oscar-winning actor Kevin Costner teamed up for "The Upside of Anger" (2005), and Costner was so taken by this new script that he helped finance the project when no major studio would take it on. (Relativity Media is distributing it.)
"Black or White" is a small, independent film with a lot to say about families. Finding ways to get along is no black-and-white issue. It's complicated. To the film's credit, it never tries to be more than what it is. The story, inspired by real events, is centered on the fate of a mixed-race little girl, Eloise (Jillian Estell).
When Carol (Jennifer Ehle) dies in a car crash, her husband, Elliot (Kevin Costner), a successful lawyer, thinks he will continue to raise Eloise alone in their luxurious home in Santa Monica, Calif. But he fails to consider Eloise's other grandmother, Rowena (Octavia Spencer), the matriarch of an extended family and a successful businesswoman in south Los Angeles.
Eloise's mother died in childbirth at age 17, and Elliott and Carol raised Eloise. Rowena and Carol got along well, but now Rowena is determined to gain full custody of Eloise because she believes the little girl needs to be with more family than just her grandfather.
Rowena engages her high-powered lawyer brother, Jeremiah (Anthony Mackie), to file papers to gain custody of Eloise. But instead of representing Rowena, Jeremiah files for Rowena's son and Eloise's father, Reggie (Andre Holland), who was and is a drug addict who has never been part of Eloise's life. Jeremiah is determined to provoke Elliot into admitting he dislikes Reggie because he is black, making Elliot an unsuitable, alienating custodial grandparent.
There's an added dimension to Elliot's situation that threatens his case: He abuses alcohol. His lawyer, Rick (Bill Burr), encourages him to talk with Rick's brother, who belongs to Alcoholics Anonymous. Elliot finally does, but Rick's brother says he thinks a deep anger fuels Elliot's drinking, and this needs to be addressed first.
Adding anger to the mix is an interesting plot device because it jeopardizes Elliot's genuine love for Eloise and shows that nothing is black and white when it comes to families. Elliot's seething anger  … CLICK HERE to continue reading at the National Catholic Reporter
And here is my video review along with my interviews on the Red Carpet for the IN Network!!!