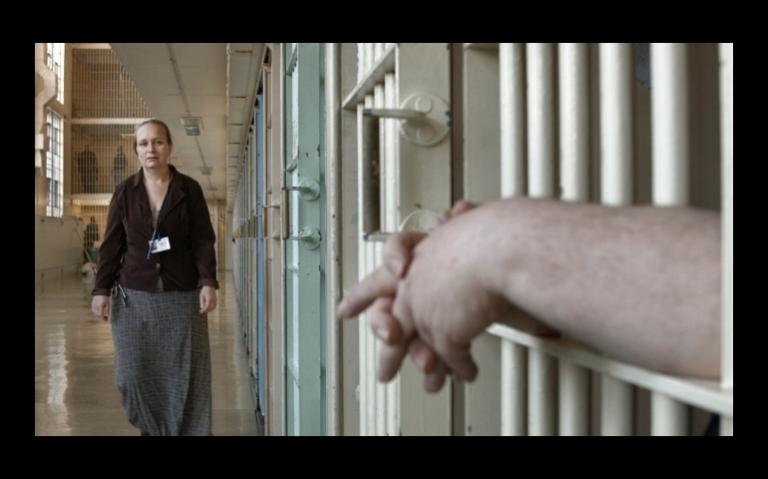 "Chaplains" is a two-hour look at the vocation, lives and ministries of chaplains in the United States that begins airing on PBS stations on November 3 and continues throughout the month.
The film opens with U.S. military chaplains, men and women from various faiths. I think beside hospital chaplains the first thing people think of when they hear "chaplain" is connected to the military. The film goes back to World War II with the sinking of the USS Dorchester in 1943 and the story of four chaplains — two Protestant ministers, one Catholic priest and a Jewish rabbi — who helped evacuate the men from the ship when the Germans torpedoed it. Finally, the "Four Chaplains" gave up their life jackets and went down with the ship.
Currently, Fr. Paul Hurley serves as the senior chaplain to the troops in Afghanistan, and in the documentary we get to see the various ways he ministers to military men and women and interacts with chaplains of other faiths. The work of chaplains is certainly one of spiritual accompaniment, but they are counselors and social workers as well.
While Fr. Hurley attests that as Catholic chaplains they never have to do anything against their beliefs, I wondered about that. So I asked filmmaker Martin Doblmeier, award-winning head of Journey Films, how the chaplains survive after they return from military service, having listened to and encouraged soldiers to fulfill their commitment when they honestly questioned their involvement in an unnecessary war.
Doblmeier told me, "The foreign policy of our country in these last dozen or so years has not been clear; our purpose in the Middle East has not been clearly defined, and while it is an international coalition effort, [I saw that first hand] there have not been clear objectives, timetables, etc. One of the chaplains at the end of the military segment — Jim Pennington — says 'This is an American way of thinking, but our soldiers are there to do a job and do it as best they can, and I am there for them.' That is the sum of it, for him, for many of them."
I don't think this answers all the dimensions of the moral and ethical involvement of U.S. military action in Iraq and Afghanistan by the government or military chaplains, especially with so many of these soldiers returning with PTS and what is being called "moral injury" from doing things to their fellow humans without clear cause, even if they are commanded to do so. Perhaps, as Doblmeier said when I pressured him on this point, "I think the film will jumpstart the conversation about the military chaplaincy and its role. … If that happens, I will consider the film a great success."
From the Middle East, the film returns stateside to hospital chaplains, a Buddhist woman serving in a men's maximum-security prison in Oregon, chaplains to the Senate and the U.S. House of Representatives, and a Muslim police chaplain in Michigan.
But who would have thought that corporate chaplains exist, such as Melissa Brannan of Tyson Foods, whose founder decided he wanted the company to be "faith friendly" to all its employees? And then there's Billy Mauldin, chaplain at NASCAR. He travels the circuit with his family. His role is described as "pastor for the thousands who stage the races that have become one of America's most popular and dangerous sports."
I was especially drawn to the story of Rabbi Arthur Rosenburg, a former actor who is chaplain to the Motion Picture and Television Fund, Hollywood's senior care and retirement center. His interaction with those he serves is warm and life affirming.
For that matter, all the chaplains whose stories are told in "Chaplains" showcase good people trying to serve others at often the worst moment in their lives, when they face loss, death, a life-long prison sentence, a life-threatening diagnosis, loneliness and grief. The inner generosity and selflessness of the chaplains, whose presence is often unnoticed by the general public, is evident from the opening scenes to the last.
I was surprised, however, that campus chaplaincy, one of the most active ministries going, was not mentioned in the film. Perhaps there were just too many to choose from.
It's also interesting that not just anyone can be a chaplain. There are requirements: needing to be a certified chaplain in one's own faith community is just one criterion to fill the role. If you are interested in pursuing a career as a chaplain or want to learn more about this vocation, see the Association of Professional Chaplains for more information.
"Chaplains" is a documentary film worth seeing and talking about because while it will probably make you question the ethics of Catholicism and war, it will let you see how so many faith traditions come together to serve the community peacefully, and you will be inspired.
See original post at the National Catholic Reporter