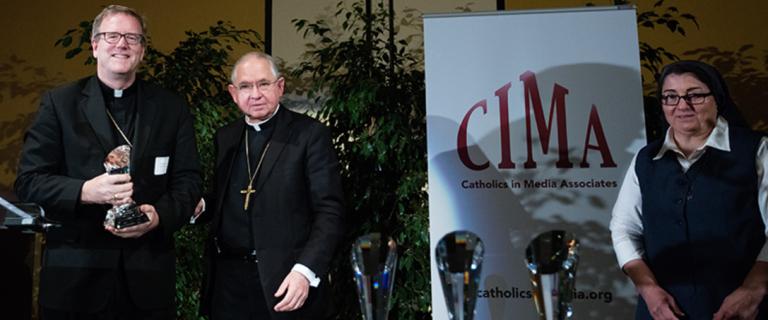 These days, when many perceive heaven and Hollywood to be polar opposite, mutually exclusive destinations, it's easy to forget that film and faith have the capacity to intersect in vital, remarkable ways. Catholics in Media Associates (CIMA) was founded in 1992 to serve as a reminder that Hollywood has many professionals who strive "to tell stories that transcend daily life in compelling ways and to communicate the true, the good and the beautiful."
Their work in the entertainment industry was celebrated at the Cathedral of Our Lady of Angels Conference Center on Oct. 9, as CIMA honored the past year's best media productions that succeeded most in telling stories that "uplift the spirit and promote human dignity," as well as the professionals behind them.
Archbishop José H. Gomez, who celebrated a packed Mass before the awards presentation, offered opening remarks noting that this year marks the 50th anniversary of the Church's World Day of Communication, an event established by the Second Vatican Council in 1963 and first celebrated four years later by Pope Paul VI to recognize the powerful role media plays in communication.
In addition, Archbishop Gomez highlighted the fact that Pope Francis, in keeping with the Year of Mercy, titled this year's World Day of Communication observance to be "Communication and Mercy: A Fruitful Encounter."
"The Gospel, at its heart, has always been about communication," the archbishop said. "We are called to be missionaries to a generation that depends on media to create a culture in which men and women can encounter the mercy of God, and in which media serves the human search for God."
Following Archbishop Gomez' comments, actor Mark Derwin (best known for his role in the Amazon original series "Bosch") served for the second time as the host and emcee of the awards presentation. The first award of the afternoon marked a first for CIMA, as it awarded its inaugural $2,500 Student Scholarship to Loyola Marymount senior film student Amy Rodriguez, who dreams of one day becoming an animator for children's programming and has begun work on her thesis film, which tells the animated story of a successful Wall Street banker who inherits his family's circus business.
The CIMA Communicator Award was presented to Bishop Robert Barron, who founded the wildly popular "Word on Fire" weekly podcast and hosted the highly anticipated film series "Catholicism: The Pivotal Players," which will premiere later this fall.
"The Catholic tradition is a smart tradition, and it is a beautiful tradition," said Bishop Barron, whose knack for delivering thoughtful, accessible lectures has helped him amass more than 90,000 YouTube subscribers and Twitter followers. "The Catholic genius is to use the beautiful to interact with God. And I want to show that off."
CIMA's Documentary Award was presented to National Geographic Channel's "Story of God with Morgan Freeman" series. The series follows …
Click HERE to continue reading at The Angelus news site of the Archdiocese of Los Angeles