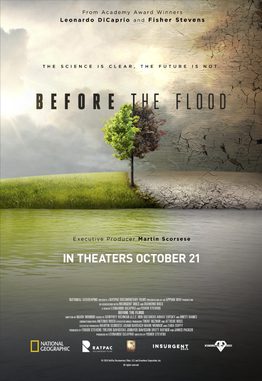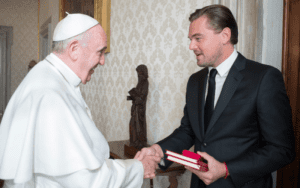 You may recall when Oscar-winning actor Leonardo di Caprio, an ardent environmentalist, met with Pope Francis in January. The Pope gave Leonardo bound copies of his two encyclicals and Leonardo presented him with a book of the art of the 15th century Dutch painter Hieronymus Bosch. It includes the triptych of "The Garden of Delights" with the Garden of Eden on one side, the end of the world, or Last Judgment on the other, and bodies in between.
In the new documentary, "Before the Flood" Leonardo begins by explaining this image that hung in his room and that he came to understand only after time. The film airs tomorrow night, October 30, on the National Geographic Channel (and twice more during the week, as well as streaming from the NatGeo website, iTunes, Amazon and other platforms. It is a beautiful but plaintive land prophetic look at the effects of climate change (global warming) on the planet.
While news anchors mock DiCaprio for his lack of scientific knowledge, he forges ahead narrating a prophetic message of what is happening to the earth and how it is being done deliberately. He also shows ways to move forward to change paths and stop the destruction of the environment.
This film is must-see television along with the second season of the NatGeo original series "Years of Living Dangerously" that also begins tomorrow night, October 30 with reruns during the week.