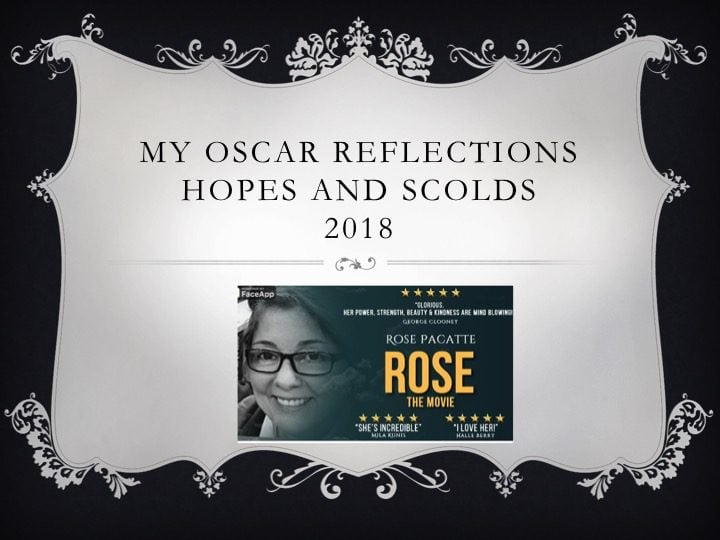 Here's a link to a podcast where I am in conversation about the Oscars:
In Conversation
Listen to Sr. Rose Pacatte discuss the threads of Catholicism running through many of this year's Oscar-nominated films and hear her predictions and hopes for the Academy Awards in the latest episode of NCR's podcast.
My Oscar reflections, hopes and scolds 2018
I watched about 85 films in 2017. It was an exceptionally good year for cinema. History, humanity, humor, family, religion, identity, relationships and the environment are just a few of the themes of films nominated in the Academy Awards' Best Picture category.
Overshadowing the Oscars this year is the "#MeToo" movement against sexual harassment, and the violence of yet more school shootings and death. Three of the Oscar-nominated films in the Best Picture category deal directly or indirectly with war. The violence in "Three Billboards Outside Ebbing, Missouri" only makes sense in the context of the characters' spiritual poverty and pain. The cruel violence in "The Shape of Water" is fueled by bias and ego but countered by love.
 Unfortunately, it's time to take out and rewatch Michael Moore's 2002 Oscar-winning documentary "Bowling for Columbine." On second thought, make it a double feature and watch, perhaps for the first time, his mostly ignored 2015 gem, "Where to Invade Next," for some ever-so-obvious solutions to America's problems, including guns and a broken penal system.
In addition to Greta Gerwig, several notable women directors released films in 2017 but were ignored by the Academy: Niki Caro, Kathryn Bigelow, Patty Jenkins, Sofia Coppola, Eleanor Coppola, Amma Asante, Valerie Faris, Amanda Lipitz and Dee Rees, to name a few. Skipping Jenkins and Rees gets a scold from me.
Best Picture
♦ "Call Me by Your Name" is a coming-of-age story based on André Aciman's 2007 novel. The Perlmans are a Jewish American family living in northern Italy. The father (Michael Stuhlbarg) is an archeologist who each summer welcomes a grad student to assist him.
This summer, it is 24-year-old Oliver (Armie Hammer). Elio (Timothée Chalamet), the brilliant 17-year-old son, has to give up his room for Oliver and at first resents him. But over the summer, they are increasingly attracted to one another. They have a brief affair even while going out with girls. Mr. Perlman and his wife (Amira Casar) notice Elio's attraction to Oliver and encourage the two to go to Bergamo for three days before Oliver must return to the States.
This is a finely wrought story of forbidden attraction with a gentle and surprising ending that reveals a father's love and elicits empathy and understanding from the audience. I wasn't expecting that.
♦ "Darkest Hour," directed by Joe Wright, gets off to a slow, detailed, tortuous start with the British government in turmoil over the rise and aggression of Hitler, the resignation of the appeasement Prime Minister Neville Chamberlain (Ronald Pickup) and the selection of Winston Churchill (Gary Oldman) to replace him.
Once Churchill takes over and forms a new government, the film starts to pick up, leading to the evacuation of British forces from Dunkirk and Churchill's rousing determination to fight the Nazis at any cost.
Churchill is known for never taking the Underground but one day is forced to do so. He decides to converse with ordinary citizens and is transformed by their love of country. This scene is moving and Oldman's performance is generous and compelling.
♦ "Dunkirk" is written and directed by one of my favorite directors, Christopher Nolan. However, I don't support this film in the Best Picture category because it is not fully realized. I never became invested in any of the characters. The 1942 film "Mrs. Miniver" told the story of the evacuation in much more moving, personal terms.
This version is too detached because it never gets "close" to the soldiers' experience or that of the courage of the small boat owners; it's like looking at the whole operation from a helicopter, and then only a small part of it. However, for this same reason, I would support "Dunkirk" in the Best Cinematography category.
To continue reading at the National Catholic Reporter, CLICK HERE