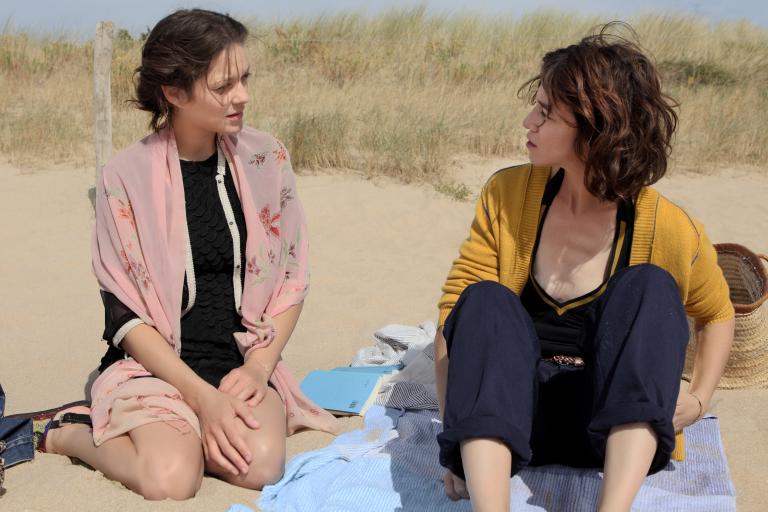 Marion Cotillard and Charlotte Gainsbourg in ISMAEL'S GHOSTS. Photo courtesy of Magnolia Pictures.
Noted French director Arnaud Desplechin's sometimes interesting, often confusing, random, occasionally frenetic narrative is about a filmmaker, Ismael  (Mathieu Amalric) whose wife Carlotta (Marion Cotillard), disappeared twenty-one years previously and has been declared dead. He is still friends with her father Henri (László Szabó) and is in a passionate relationship with an astrophysicist, Sylvia (Charlotte Gainsbourg). Life is good as Ismael works on his new feature film at his home near the sea when Carlotta returns and complicates his life and relationships.
At the same time Ismael's script takes on a life of its own as the protagonist, the lazy and irresponsible diplomat Ivan Dédalus (Louis Garrel) – the brother of Paul Dédalus, a character from some of Desplechin's previous films. There is a dream/nightmare scenario where Judaism, Catholicism and Protestantism are mentioned, perhaps to express being haunted by religion and morals, but it is not clear why.  The character's obsession with being the next Jackson Pollock raises more questions.
Ismael's Ghosts (all the characters, some of the characters?) is at once a film within a film, an existential trip down some kind of artistic rabbit hole with Desplechin as an unreliable guide. it is a curious pastiche of a film. Rather than a muddle, perhaps Ismael's Ghosts is just self-referential art for arts sake.
A version of the film opened the 2017 Cannes Film Festival but according to Desplechin, the real version is the one now in U.S. distribution. He says, "My film is a world, with fireworks." I would say it is a film world with occasional sparks, But if you like layered, rambling films wherein the director needed to get out of his own way,  you may appreciate this film more than I did.