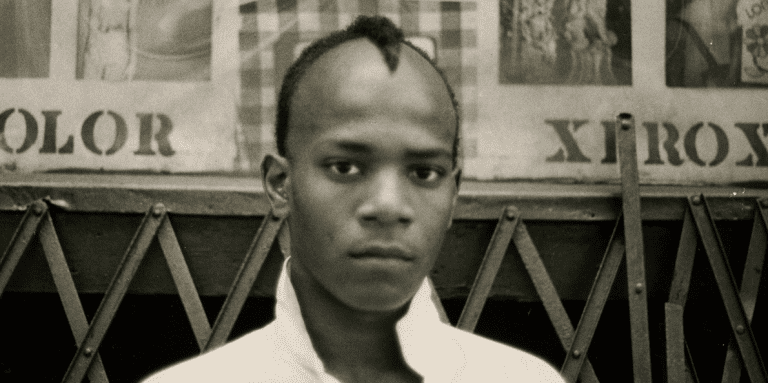 Courtesy of Magnolia Films
New York City in 1978 was on the verge of bankruptcy. The tenements of lower Manhattan looked bombed out and graffiti was exploding across the city and on the subway trains to the tune of hip-hop and the vision of break dancing. While many people, if not most, considered graffiti a blight, emerging street artists were paying attention. Today we have Banksy; the late 1980's had Jean-Michel Basquiat.
This new documentary by director Sara Driver captures the tone and texture of New York City in transition through the art of Basquiat who sold his first piece at the age of 21 and died seven years later of a heroin overdose. He began as the mysterious SAMO whose graffiti colored the Lower East side. His style was abstract, as if Andy Warhol had evolved horizontally rather than vertically. His work evoked, to me, influences of Picasso as it grew from the Black experience and flourished in the rot that was the Lower East side. Basquat started with words on walls, social commentary, that made the viewer ponder and moved into images that pull you in, even today.
I lived in New York City throughout the 70s; I saw the decay and poverty and the graffiti. I used to wonder how anyone could get a train to stop long enough to paint such art. And it was art (and still is) even as it annoyed passengers and passers by. The film tells you over and over that you needed an eight-ten hour window to do good work like that. The film quietly celebrates independence through art, and a deep human mysticism whose light, ttagically, went out way to soon.
This 96-minute documentary is fascinating with commentary by filmmaker Jim Jarmusch, Jennifer Jazz, Luc Sante and Lee Quiñones. I would say that the film belongs with those about other artists who died at age 27 and 28: Amy Winehouse (Amy) and Janis Joplin (Little Girl Blue) come to mind. "Exit through the Gift Shop" about Banksy and a super fan, is also worth watching if street art is your thing.
I wonder if the artist Corita Kent ever came across the urban art of Basquiat. They were independent spirits who had a lot in common when it came to the function and role of art in a culture starving for meaning.