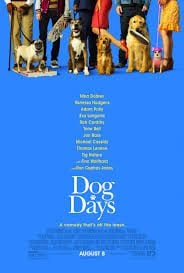 In Ken Marino's lightweight predictable romantic comedy, the best part is in the last five minutes and then the outtakes alongside the credits.
The cast includes Vanessa Hudgens as Tara, Eva Longoria as Grace, Nina Dobrev as Elizabeth, Ron Cephas as Jones, and Jon Bas as Garrett.   The plot entwines the lives of various people in Los Angeles, from childless parents who adopt a young girl and then adopt a dog, to a talk show host's love life and a couple of dogs, to parents of newborn twins with the mom's clueless brother who comes to the rescue by taking the family dog off their hands for a while, to the friendship between a lonely widower and a young man as they search for the man's lost dog. The funniest scene is when the dog gets into the poopy diapers (in an otherwise very clean movie.)
If "Dog Days" is a critical success (and it seems to be from even the more cynical sources) it's because everyone loves dogs. The long cast of canines in the film bring out the best and show the worst in their human owners and everything ends up just fine. And no, the animal shelter will not have to shut down because the huge fundraiser will be a success. The plot is like an old "Our Gang" movie when Spanky and the kids put on a show to solve the problem at hand.
That they use "Who Let the Dogs Out" for the sound track shows the movie's predictability. Seriously? Obviously not.
Despite the film being light and trite the story of the widower Jones is perhaps the most moving, interacting with that of Grace, her husband, their adopted little girl and the dog that draws them all together.
Dogs, it appears, bring out our best selves.
Lassie come home. Please.