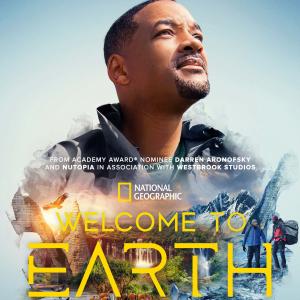 In a new six-part series from NatGeo and Disney+, actor Will Smith accompanies big names in earth's exploration to some fascinating, mysterious, scary, and beautiful places on earth, some of which we may have never seen before – and neither has Will Smith. One unique aspect of the series is that it is framed by the six senses: sight, sound, smell, taste, touch – and wonder.
"Welcome to the Earth" is a six-part follow-up to NatGeo's 2018 "One Strange Rock". Both series are directed by Darren Aronofsky and star Smith. Both are produced by Jane Root who founded the UK-US company Nutopia that is known for creating the "mega-doc" that combines "epic cinematography, action-driven drama with A-List talent" according to press notes provided to reviewers.
I watched four of the six parts and enjoyed them very much, although I thought Will Smith was limited by his self-self-depricating hesitancy or perhaps it is just lack of experience in the wild (he admits that he didn't see much growing up in Philadelphia.) Some wholesome fear may have been involved, too. Smith engages in all the endeavors, like zip-lining across a cravasse, delving into deep water in a cavern to look at stalactites that grow an inch every thousand years, or experiencing how fast and slow the earth and its creatures process and move. While his narration is not very earth shattering, his companions make up for it. These experts are National Geographic explorer Albert Lin, marine biologist Dr. Diva Amon, and polar expeditionist Dwayne Fields.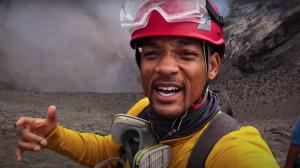 The most fascinating of these guides, to me, is mountaineer Erik Weihenmayer, who in 2001 became the only blind man in history to climb Mt. Everest. He invites us to listen to what is going on around us, from an active volcano to a place on earth where it is completely silent to the human ear. This one episode seemed almost mystical among the rest that are awesome, yes, and invite us to contemplate and wonder at creation, but silence is appealing in a noisy world. To listen to what the earth is telling us, revealing to us, is an invitation to slow down, take care, and pay attention to people and nature.
Without a doubt, this is a gorgeous and fascinating series, despite any limitations. In some ways, Smith stands in for the rest of us who, as they say, "don't get out much." I would never zipline anywhere, so kudos for that, Will.
In the segment on the rain forest, we see a park ranger replanting trees in El Yunque National Rainforest in Puerto Rico. From the episodes I saw this is the only place where care for the earth is explicitly addressed, though thoughtful viewers will understand that the need to care for the environment is implicit throughout.
Episodes now streaming on Disney+:
Descent into Darkness
The Silent Roar
The Power of Scent
Speed of Life
Mind of the Swarm
Beyond Fear