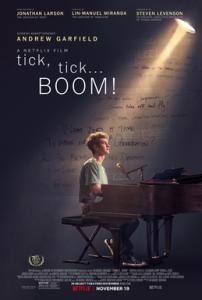 It seems only recently that we have seen a rebirth of musicals filmed for theatrical (and streaming) release, either taping a live performance, such as Hamilton and Come from Away, or adapting a musical for film such as the surprising (to me) and inspiring homage to creativity, the late Jonathan Larson's "tick, tick … BOOM!"
Jonathan Larson (Andrew Garfield) relates his inner angst in song amidst his daily life in New York, trying to write a musical while working at the Moondance Diner in SoHo. He lives in a tiny lower Manhattan apartment where he welcomes his girlfriend Susan (Alexandra Shipp) and best friend Michael (Robin de Jesus).
Jonathan is turning 30 years old in a few days and feels that has not accomplished enough in his life so far. He's suffering from an almost crippling writer's block and he cannot stop hearing the tick tick sound the clock makes because he feels compelled to write one more song in a week's time for his musical "Superbia" that he's been working on for eight years. He's running out of time. Everyone tells him that a song for the second act is missing. He's planning a workshop for the musical (and inviting producers and friends to attend) but he can barely get his agent, Rosa, (Judith Light) to return his calls.
Susan wants Jonathan to move with her to the Berkshires where she has found a job after a severe accident that almost ends her career as a dancer. She thinks she has found a job for him, too. Jonathan is pulled and delays answering her, adding to his anxiety. Michael suddenly leaves theater work to take a job in an advertising firm. Jonathan envies his friend's financial security and well-appointed apartment. But he is so caught up in his own turmoil that he doesn't hear Michael's devastating news or pick up the phone to answer Susan.
With a title like "tick, tick … BOOM!" I didn't know what to expect. Then the musical opens with Andrew Garfield singing and commanding the stage, well, he had me at "Hi, I'm Jon." When he sits at the piano and begins to perform, accompanied by his friends Roger (Joshua Henry) and Karessa (Vanessa Hudgens) , he is transformed. I'd never heard Garfield sing before. He's amazing and his performance deeply felt and real.
The musical was originally written and performed by Jonathan Larson on the piano and accompanied by a rock band in 1991 but was only performed in its current form in 2001. Later, after his sudden death in 1996 just before his 36th birthday, it would be re-worked into a fully produced musical. Larson would go on to write "Rent" for which he received a posthumous Pulitzer Prize for Drama in addition to numerous other awards.
Lin-Manuel Miranda, in his feature film directorial debut, directs this multi-media combination of vintage video footage (produced for the film) and the musical performed on and off stage in various locations, based on a screenplay by Steven Levenson.
Some of the themes I noted in this story are perseverance, persistence, creativity, friendship, forgiveness, and hard work just to survive. I am filled with admiration for Jonathan Larson but also for Garfield, Miranda, Levenson and the cinematographer, Alice Brooks.
The power of this semi-autobiographical story lies in Larson's struggle to create art and his suffering to bring that art to the stage. It takes place in the middle to the HIV-AIDS epidemic as he loses friends and others become sick. He and a few friends live in an unheated apartment, but they keep going, even when they are rejected. One line from the song "Louder than Words" touched me, "Why blaze a trail when the well-worn path seems safe and so inviting?" This sentiment is the burden of creative people. Then in the same song, "Cages or wings? Which do you prefer? Ask the birds…" Creative people are called to take flight but are often caught in the cages of their own making, yes, but also life, society, rejection, and an inner fire that fuels the passion of their gift.
This production is a love song to artists encouraging them not to give up on their dreams and to those who can make art happen. Do it. Please. "Come to your senses" as the song says. "Actions speak louder than words."
_________
This is from publicity for the film:
Lin-Manuel Miranda was deeply inspired by Jonathan Larson's work as a performing arts teen himself who saw RENT at 17 years old then tick, tick…BOOM, and was spurred to make musicals that reflected the diversity of friends and experiences in his own life. It spurred our multicultural team to think of an impactful community activation to celebrate the film and inspire the next generation of artists, singers, musicians and filmmakers. We partnered with 5 local performing public arts high schools and orgs to celebrate the film and the impact Larson's body of work left in the theater and creative arts community (one even enlisted their own student filmmakers to direct their fellow theater students!). It was always Lin's dream to bring this film to life on screen and we are so proud it launches today.
In the video you will see these amazing students bringing a fresh, vibrant performance of the show's key showstopper "Louder Than Words." It was magical to see these students unite after the last 2 years and utilizing the arts to KEEP PURSUING YOUR DREAM even when you are up against the clock and never give up. Students from the following high schools perform:
Booker T. Washington High School for the Performing & Visual Arts – Dallas, TX
Baltimore School For the Arts – Baltimore, MD
Chicago High School for the Arts – Chicago, IL
The Los Angeles County High School for the Arts – Los Angeles, CA
TADA! Youth Theater – New York, NY
Here's more at PEOPLE magazine