Christmas 2018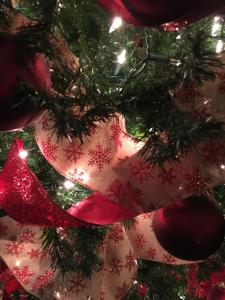 Dear Friends and Family,
It has been a very big year for me in terms of being busy, traveling, speaking and writing – and grieving.
Our youngest sister, Eva Marie, died in April. It was sudden and unexpected. I am including a short memoir of Eva's last days here. Please join us in prayer for her eternal repose. Her funeral Mass and celebration of life in Fallon, NV at her son's home on May 5, is something we will hold in our hearts forever.
During Lent I led film retreats at parishes in Pueblo, CO, Stockton, CA and one for women at St. Paul's Student Center Fresno, CA. It's always inspiring to participate in the Archdiocese of Los Angeles Religious Education Conference in Anaheim. I presented on legal issues and copyright (how to stay out of jail!) and co-presented on the film SILENCE with Fr. Ron Schmidt, SJ. In April I went to Winnipeg, Canada for a set visit for the film "Breakthrough" and met Christie Metz and Josh Lucas. The film comes out in April, 2019. In May I received a Doctor of Ministry in Pastoral Communications degree from the Graduate Theological Foundation in Mashawaka, IN. In June I participated in the Catholic Media Conference and SIGNIS North America meeting in Green Bay, WI – and tore a tendon in my left foot. It's just healing now. During July the Pauline Center for Media Studies had our usual advanced course in media literacy and the National Film Retreat.
In October I gave the Edith Stein Lecture at Immaculata University on Digital Literacy, then Sr Nancy Usslemann and I left for Hong Kong (Media Education Summit) and Singapore, where we have presentations on media mindfulness and spirituality. We loved being with our Sisters in both countries and meeting our Pauline Cooperators there, too. In May (this is not a chronological letter!) I took a quick trip to Rome to visit the set of a Netflix film at CineCitta'. It was short and very sweet! Best of all I stayed an extra day that allowed me to participate in the Mass at our Church of Mary, Queen of the Apostles celebrating the 100th anniversary of our Association of Pauline Cooperators. In November, I gave the Condon Lecture at USC's Catholic Center: "Are Horror Films Catholic?" Before this I went to Mexico City for the press junket for the horror film "The Nun." I made my annual retreat at the convent of the Sister Disciples of the Divine Master in Fresno before going to my sister's house near Sacramento to work on and finish a book on St. Hildegard of Bingen. I love it there, but August is always, well, rather warm! Spent Thanksgiving with my family near Sacramento and mourned the burning of Paradise, CA, where my sister Sarah raised her family. During our special Thanksgiving prayer we "adopted" long-time family friend, and our sister's Eva best friend, Jennifer and her daughter, Megan, into our family. The mayor of Auburn, CA even issued a proclamation to this effect! (Not legal but to us it was a big moment!)
I am sure I left off some doings and events such as watching a lot of films and writing monthly for St. Anthony Messenger (15 years!) and the National Catholic Reporter, aspects of my ministry that I love. God willing, I will serve on the Ecumenical Jury at the Cannes Film Festival this coming May in France. My sister's co-grandmother, Gail, is coming with me.
Blessings and prayers and may 2019 be filled with joy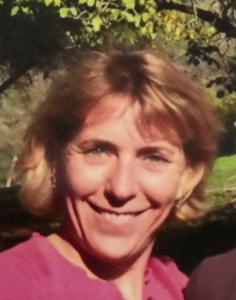 Eva Marie Pacatte: In Memoriam Amantes
1964 – 2018
"Come to me, all you who labor and are burdened, and I will give you rest.
Take my yoke upon you and learn from me, for I am meek and humble of heart; and you will find rest for yourselves.
For my yoke is easy, and my burden light."(Mt 11:28-30)
"I find it amusing. Men are supposed to be made out of steel or something. I just sat there. I just held Shelby's hand.
There was no noise, no tremble, just peace. Oh God. I realize as a woman how lucky I am.
I was there when that wonderful creature drifted into my life and I was there when she drifted out.
It was the most precious moment of my life." (M'Lynn in "Steel Magnolias")
"Through this holy anointing may the Lord in his love and mercy help you with the grace of the Holy Spirit."
(The Rite of the Anointing of the Sick)
A few hours after arriving back in Los Angeles on April 19 this year from a set visit for the film "Breakthrough" in Winnipeg, Canada, my phone rang. It was my sister Sarah asking me why I had not answered her texts or phone calls. I had been in Canada with my data service turned off. What's happening? She told me that our youngest sister, Eva Marie, 54, had been found unconscious that morning at a friend's house in Reno where she had recently gone after becoming homeless. At the hospital they discovered she had a brain tumor. Surgery was scheduled for the following Wednesday.
I was finally able to speak with Eva at 10:30PM that night once she was settled in after testing and all the things they do when a person is admitted to the hospital. She was so relieved to know the cause of her suffering these many years, why she was not able to care for herself or make a decision and why she could not stay in any one place long. For the past seven years or so she had lived with her sons and their families uninvited and it never lasted long. I told her I was relieved to finally understand, too. We, her close family and friends who are like family, had all judged her so harshly, judgments that went from amateur diagnosis of a personality disorder (which was probably accurate because of the location of the tumor) to laziness (every time she moved she said she was going to start again and get a job; she never did), to just being chronically negative.

We, her four sisters and her best friend of forty years, Jennifer, (a sister from another mother), would visit her, take her out for lunch, make suggestions, give her some cash or a gift card. One of our sisters-in-law in California, Mary, took her in and eventually got her disability and signed up for food stamps and health care. A few days later she was gone; for a reason that seemed silly to us, she could not stay. She went back to Reno to make a new start, moving in with her former girlfriend (who now had a new partner), but the new start that never happened. She was so close to job opportunities that she could walk. But she could only motivate herself to move when she needed cigarettes.
Eva came to our family Thanksgivings near Sacramento over the years. She kept in touch with her sons and even spent this last Christmas with her eldest son and his family. There was not a rift between Eva and the family; there was a chasm filled with love, impatience at her lack of will to get a job and her constant negativity. She told us over the last twenty years or so that she just felt paralyzed. She burned every bridge open to her; she had no insight to her behavior. After meeting the beautiful daughter she had given up for adoption she decided not to stay connected. She moved out of her girl friend's house after a year or so, remarried briefly and divorced again.
Eva realized how disapproving people were of her but had no way to deal with that, to care enough to change or respond except to complain about whomever was housing her at the moment. Some family members were unforgiving especially after she deserted her sons and divorced their dad. It made no sense to me; she and her husband had gone through the entire process to have their marriage blessed in the church, to baptize their children. They had a good life. But she dismantled that life and moved on toward some elusive reality that even she could not describe other than to intimate she wanted someone to take care of her.
When Eva told us in January this year that she just couldn't stand where she was living, an old high school friend of hers reached out to her. This woman made space in her home, bought Eva a new bed, clothes, cut her hair that had not been washed for six months, and set her up for job interviews. Eva would go to an interview and not follow up. She didn't change her bed linen for two months. She lied to and about her friend. That's when Eva became homeless. Her friend told her to pack up and leave. That friend was so hurt by Eva's lack of interest in helping herself and her lies that she did not even respond when we reached out to tell her Eva was diagnosed with a brain tumor.
Eva was a licensed cosmetologist in Nevada and California but none of the jobs she got worked out; the people she worked with were inadequate or out to get her. In 2016 one colleague, Jenn, with whom she did get along, invited her to move to Arizona with her family. It seemed to be going so well! Two months later she returned to Reno because she said she missed her sons.
She only spent a day on the mean streets of Reno's shelter district in April when she went back to her former partner's house without telling anyone. We thought that's where she was because we could see she was on Facebook via her beat-up tablet. That night she had the seizure. She broke her nose when the seizure threw her out of bed. She was turning blue when her friend's grandmother found her in the morning.
Eva told me on the phone that night that she was so happy in the hospital! She called it the Taj Mahal. The nurses were so good! The food was wonderful! And she was so relieved to know the cause of her very real suffering.
By day four, Sunday, April 22, Eva was back to normal, that is, complaining, being disagreeable with almost all the staff. After leading a women's retreat in Fresno on Saturday the 21st, I drove to my sister Libby's house near Sacramento. Then with Eva's twin, Emilie, who had arrived from San Diego, we drove to Reno that night. After Mass the next morning we made our way to the hospital. Little did we know we were beginning a vigil. The day was filled with family and so much love. Her eldest son, Andrew, and his wife, Tara-Lee, and their daughter Robyn Marie. Her youngest son Christian and his girl friend came. Eva's daughter, Lindsay, came with her partner and their child. Jennifer, her friend of 40 years was there as were all four of Eva's grandchildren (including twins Cayden and Skyla) and their parents. There was laughter and picture taking and noise! We marveled at how much the nurses put up with, and how much access they gave to this growing crowd of family and friends. I asked Eva if she would like to receive the Anointing of the Sick. "Oh, yes," she said. "I do want that." I went out to tell the nurses. The chaplain came the next day, Monday, and anointed her. We suggested to Eva that she sign her health care directive. She chose her eldest son as her proxy and signed a DNR. Also, she only wanted palliative care should the results of the surgery not turn out as we hoped.
By Tuesday Eva's good will toward the nurses and staff deteriorated further. We got her a Nook, a new tablet to replace the damaged one that had been her lifeline to the world the last three years. She was so happy! She hugged it then gave it to her son to set up for her. I stayed late that night. Our sister Sarah arrived and Emilie returned. I kissed Eva good night and said I would come to the hospital after they took her into surgery and keep vigil with the rest of the family during the seven to eight-hour operation.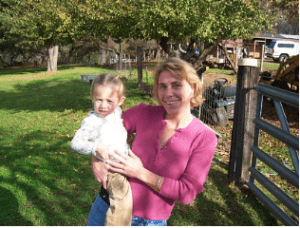 Eva named her tumor "Hoover" because it had sucked so much life out of her. Eva reminded us that she had lost her sense of smell a few years before but thought it was due to menopause. Without a fixed address, income, or even a way to be declared disabled, she had no access to regular health care; perhaps a doctor would have looked for the real cause. She had lost or left behind most of her belongings moving from place to place. Eventually she lost her car, as well. At one point, she made an attempt to take her own life. The doctors have her antidepressants and released her after 72 hours.
The morning of Eva's surgery, April 25, we gathered close and took turns hugging her and sharing words of hope for what the next steps promised: a month in the hospital then rehab. Her eldest son and his wife invited her to live with them after rehab, despite previous unsuccessful attempts. Just then Libby walked in. Something told her to skip work and drive two hours to get there before the surgery. They called me and said to come now, before the surgery. Eva wanted to see me, too. She and Eva spent time talking and sharing things that sisters do. Emilie, Eva's twin, mused that they had not gotten along for so long; maybe the tumor explained that. Sarah was there, too, and we all gathered around her bed and prayed the Our Father and a Hail Mary that the surgery would be successful.
When the transport people came to take her to surgery, we gave her a loud send off. The last thing I remember seeing was her extending her arms out and yelling, "This is the beginning of the rest of my life!"
Little did she know.
Reality soon set in. One of the doctors stayed behind and told us that the best we could hope for is that she would come out of the surgery the same way as when she went in; the tumor was so pervasive. What? We thought it was the size of a golf ball and easily removed. But no. They had not been able to carry out the embolism the day before that would have cut off the blood supply to the tumor. And her tumor was not actually in her brain but outside of the left frontal lobe, pushing on the brain; it had grown over the top of her brain and was pushing on her optic nerve. Blindness was almost certain at some point.
Sarah bought a jigsaw puzzle then we gathered in the cafeteria for breakfast and to work the puzzle as a way to keep busy. They had not done a biopsy. Why? They could not get in. Was the tumor malignant or benign? We argued about that. Libby, a hospice nurse, finally put an end to that discussion saying in an extremely authoritative way: "Look. There's a 100% chance it is what it is." That was a conversation stopper! Libby is funny that way and she doesn't even realize it. We laughed for a long time over that one.
We moved to the waiting area outside of surgery, some taking a nap. I was reading and praying. We'd get up, walk around. Get coffee. Then we went for lunch.
After about four hours one of the surgeons came out and said it was going well. After seven hours he came out and said she was in the recovery room. However, they were only able to get 75-80% of the tumor because she had started to bleed, a sign for them to stop. Would the tumor come back? Probably. Now, he said, we had to get through the next 24-48 hours.
We were able to see her around 10:00PM. They let a whole gang of us into the ICU which should have tipped us off that Eva was not doing well. Emilie took the arm of Eva's son Ricky who had just arrived and hadn't seen his mom before surgery. "Eva, wake up! Look! Ricky's here!" she repeated over and over. Eva didn't open her eyes, but she whispered three times, "Shut up!" We laughed because this was a perfectly normal response between the twins. We were so hopeful! We said goodnight to our sister and one another and headed back to our hotels. Around 1:00AM Andrew, Eva's oldest son who was staying with her, called to say her brain had started to swell; they had taken her back into surgery to put in a "post" to monitor the swelling. They also inserted a breathing tube. They said this was normal post-op procedure. They had her heavily sedated as could be expected. She never woke up.
By the next morning when we got there Eva's brain activity was less each time the nurses and doctor checked her. I asked for the chaplain to come and anoint Eva again and explained to my family and friends that this is a sacrament of healing grace for Eva and for us. It is an opportunity for the forgiveness of sin for the one who is sick. It brings hope, courage and strength, and most of all peace. It will help Eva heal to prepare for death. Our being there and participating would help us prepare for the sacred moment when she will go to God, if it be God's will.
Because of Eva's DNR, her insistence that she did not want to be on a breathing tube and the decreasing prognosis, her son, in conversation with his brothers and sister, decided to remove the tube. Eva was an organ donor and they arranged to remove the tube at 9:00PM when a kidney transplant team could get there. It was a designated donation as our cousin in Texas was on the transplant list. Information was gathered and exchanged, phone calls made. More friends and relatives arrived. Eva's first husband, Rick, came and spent some time keeping vigil at Eva's side.
Everyone gathered when the chaplain came. The priest sprinkled Eva with holy water, to remind her, if she could hear, and us, of our baptism. He commended Eva to the grace and power of Christ. He prayed for forgiveness of her sins and ours. He asked me to do the reading from Matthew 11. I could barely get through it. I looked at Eva's still body and recalled all the suffering she had endured, all those sideways glances, our lack of patience and harsh judgments over the years:
Come to me, all you who labor and are burdened,
and I will give you rest.Take my yoke upon you
and learn from me, for I am meek and humble of heart;
and you will find rest for yourselves.
For my yoke is easy, and my burden light.
The yoke she bore, the burdens she carried, her motivational paralysis, truncated memories, frustrations, regrets, fears, wanting family and love and pushing them away at the same time. She had to bear our judgments of her, too. Why doesn't she get her act together? She's so selfish. When she hits rock bottom that's when she will pull herself together. I could barely finish the reading, my regrets and sadness at our impending loss so overwhelming.
Father anointed her forehead, heart, hands, but with all the tubes, he could not reach her feet: "Through this holy anointing may the Lord in his love and mercy help you with the grace of the Holy Spirit." He bade her hope in her suffering, a prayer for one who is in an extreme or terminal condition. Then everyone prayed the Our Father together in strong voices. It was so emotional and loving.
The alarm on her brain monitor spiked so almost everyone left; she was calmer when it was quiet. I stayed. I sat by her bed and looked at my little sister, my godchild. I lay my hand on hers. I placed a rosary near her hands. I was twelve when she and Emilie were born. After my brothers and I were confirmed the twins were baptized with us as godparents. I tried to be a good godmother over the years, encouraging her, scolding her sometimes, and giving her to God when I could not understand her choices and behavior. Now I prayed the rosary and cried a little. Family members and friends came in and out, stayed a bit then left. This went on for hours.
Eva's ICU nurse was wonderful, answering every question we had. They came to do an EKG and a sonogram of her heart. They let us see and hear her heart beating. Before they came to move her bed to a room next to the transplant surgical suite, this lovely nurse gave us, her sisters and her children, little organdie pouches with a printout of Eva's EKG and a piece of paper with her finger print on it.
As 9:00PM drew near on May 26, there must have been 25 of us who made Eva's last journey with her, a pilgrim vigil. We followed the transplant liaison person to Eva's new room and took turns talking to her and praying. Her three sons and their father along with her daughter Lindsay spent time along with Eva, willing her to feel their love, forgiving her, asking for forgiveness. It was a graced time, a privilege to be present at her death.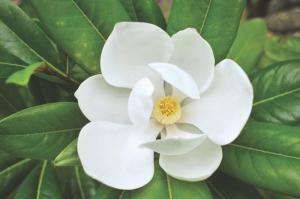 At the appointed time they shut off the machine and removed the breathing tube. Eva breathed so strongly at first, but little by little it slowed, became shallow. No one left. Everyone stayed. None of the men in our family left as they did in the famous scene in "Steel Magnolias" when Shelby (Julia Roberts) dies and her courageous mother, M'Lynn (Sally Field), is left all alone to hold her daughter's hand as "she drifted out of this world."
After an hour and fifteen minutes Eva breathed her last and died. There could be no kidney transplant as she would have had to die within an hour for the kidneys to be in optimum condition for transplant. There were tears and encouraging words; there was silence broken by a Hail Mary, Our Father and Eternal Rest.
All I could think of was that Eva, despite the challenges of her reality, was a strong woman, a steel magnolia in her own right. My family and friends are strong like steel magnolias, too. Then for me, like M'Lynn, I could say that I was there when this marvelous creature was born and I was there when she went home to God. Now she was with our parents who had died many years before. Now she was free of suffering.
In the film "Steel Magnolias" there was a strong sisterhood to support M'Lynn from a distance. There was a mother's love but there were no prayers and no sacraments to provide comfort and strength. I cry my eyes out every time I see this film, especially at the cemetery when M'Lynn's heart breaks and she cries out to the universe in her pain and asks the Lord to help her understand. The grace in this film comes from the love that the women, the "steel magnolias" bring to the saddest moment conceivable, when a mother buries a beloved daughter.
Our hearts were broken, too, but the cracks filled with lessons of love and letting go of past hurts, of giving and hopefully receiving Eva's forgiveness for judging her when it was that terrible tumor, Hoover, that the doctors said had likely been growing for decades, that caused the gradual breakdown of Eva's short life.
Eva was cremated and the Memorial Mass was celebrated on May 5 at St. Patrick's Church in Fallon, NV. Andrew, Emilie, Jennifer, and I shared memories about Eva before the final blessing. Emilie's words went right to my heart: "I thought she just didn't like me" but seems it was the tumor that changed everything.
We learned so much through this experience. First of all, not to judge, but to see if there is another explanation for someone's behavior. Insist on a brain scan for unexplained symptoms (at least one of Eva's sons got a brain scan soon after.) Also, our Dad died after surgery for a preciously undiagnosed slow-growing brain tumor. Is this genetic?

I was there when you were born, Eva Marie. I was there when you, my dear, dear little sister, drifted away and began your new life in heaven. I am anointed by your life, your loving, your children and grandchildren, your friends, and most of all the good memories of your smile and the fun we had. Remember Thanksgiving that year? Playing Balderdash and drinking boxed wine out of sugar bowls because all the other dishes were dirty? How we laughed! That feeling, that memory of innocent joy as a family is what I remember. You, our steel magnolia, anointed us before the tumor got you and that's what we will treasure. (Eva is on the right, Em on the left.)
We love you, Eva.
Sis, and all of us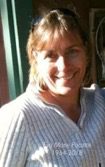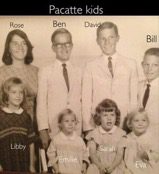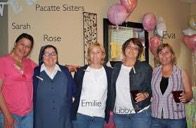 Eva Marie Pacatte, born February 28, 1964, San Diego, CA, died April 26, 2018, Reno, NV. Mother of four, grandmother of four. Daughter, granddaughter, sister, wife, mother, aunt, great aunt, cousin, friend. Rest in Peace.