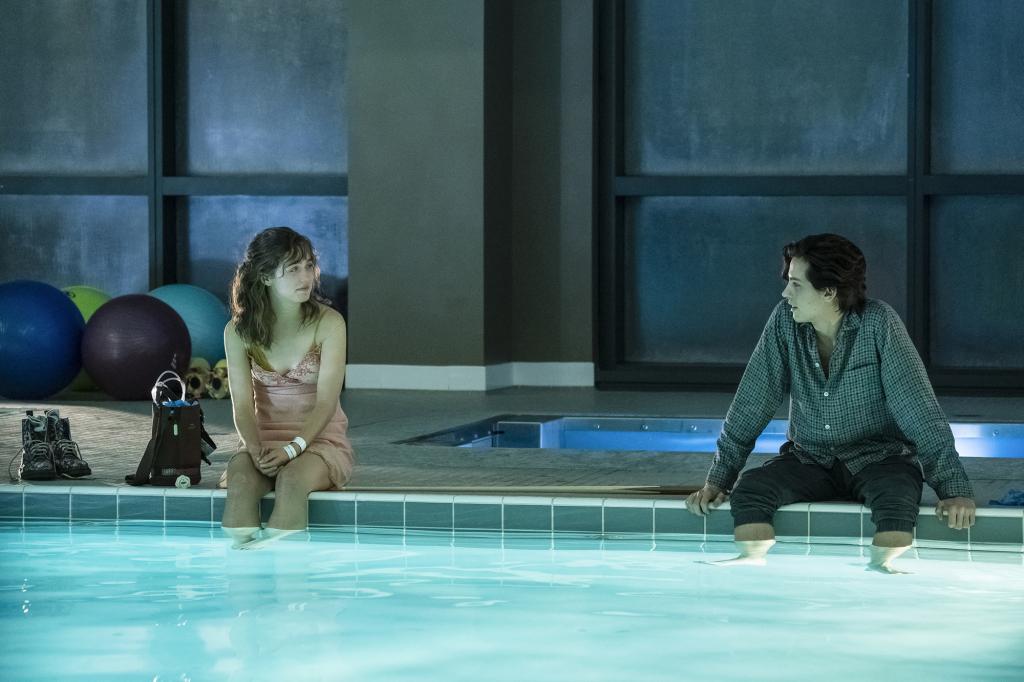 Five Feet Apart – Stella Grant (Haley LU Richardson) is seventeen years old. She's a teen girl who likes to do everything other girls her age enjoy but she does it from her almost permanent room in a hospital. Stella has cystic fibrosis (CF), a genetic disorder that affects the lungs and other organs because CF makes the body overproduce mucus that can harbor highly infectious bacteria. A new medical trial is beginning and her friend Poe (Moises Arias), who also has CF, are participating in it.
Chronic diseases are always a challenge but for those with CF there is one rule they cannot break or they can put other CF patients at risk for life-threatening cross-infection. The rule is that people with CF must not touch or get within five, or preferably, six feet of one another.
This rule becomes an issue when Will Newman (Cole Sprouse) joins the trial.  He seems despondent and rebels against his treatment regimen.  Stella likes him and flirts with him, but always from a distance. They share about their lives with CF. The two young people become friends and grow close on emotional level. They share one intimate moment that reveals the depth of their struggles with CF and their desire to not let the disease define who they are as human beings.
Director Justin Baldoni and writers Mikki Daughtry and Tobias Iaconis want to show the audience that friendship and spiritual intimacy are still possible even when physical touch will never be possible between two people that in different circumstances might go on to marry and have a family. This romantic drama is well informed about CF and is empathetic without turning into a soap opera. Many aspects of the story of Stella and Will reminded me of the 2017 film "The Fault in Our Stars." But "Five Feet Apart" demands more of its characters in terms of maturity and surrender to live within the harsh constraints of their illness, to do what they have to do to keep each other safe and to live, really live.