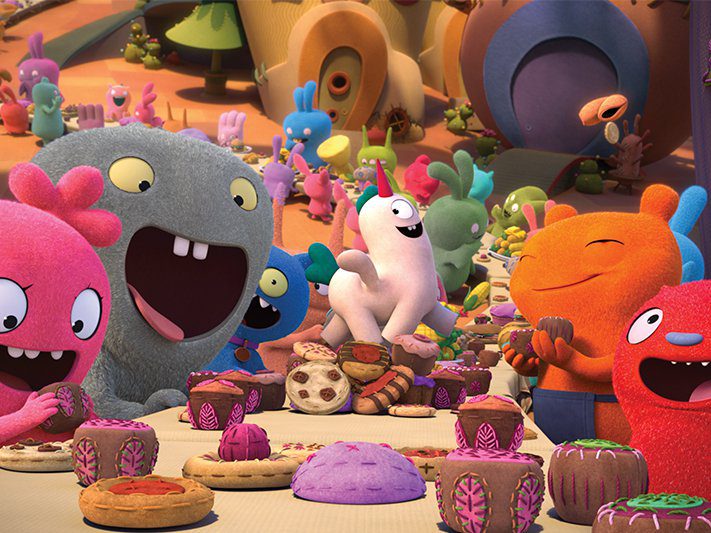 A factory produces different kinds of felt dolls, and all of them must pass through quality control inspection. When a doll is deemed imperfect, it is sent to a hidden and remote inlet along the shoreline called Uglyville. There, Ox (voice of Blake Shelton) is the paternal figure watching over the community of misfit dolls, who enjoy life. They do not see their imperfections or compare themselves to anyone else.
Moxy (voice of Kelly Clarkson) is a happy doll who loves to sing songs. But she knows that every human child is supposed to have a doll to love, and she wants to find her child. Moxy wants to see what is on the other side of the mountain where ugly dolls come from. She and her friends make their way through a pipeline and discover a town called Perfection. Lou (voice of Nick Jonas) is the mayor of the town. He tells all the brand-new dolls that he will help them get ready to pass the final test to become a doll that a child will want to have.
Lou assigns Mandy (voice of Janelle Monáe) to find a place for Moxy and her friends to stay in the cookie-cutter doll village. It turns out to be a shed, but the dolls make the best of it. Mandy accidentally drops her eyeglasses that were hidden in her pocket. She knows that if Lou discovers she is not perfect, she will be rejected and sent to Uglyville or be recycled. The next day, when all the dolls must begin the process of quality control, truths are revealed and life lessons are learned.
Ugly Dolls is named for a popular line of plush toys CLICK HERE to continue reading at St. Anthony Messenger magazine online