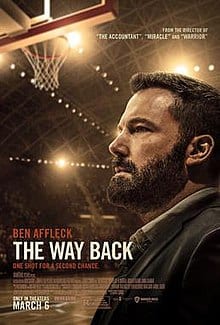 Jack Cunningham (Ben Affleck) is a construction worker who lives alone, works all day and drinks away his evenings at the local bar, Harold's Place, near the port. He's a full-fledged alcoholic and manages to hide it from all except the men in the bar who help him get home every night. He starts drinking beer as soon as he gets up. He puts hard liquor in his water bottle and coffee cup.
One day, out of the blue, Father Devine (John Aylward) from his old Catholic High School, Bishop Hayes, calls. When they meet, the priest asks Jack, a former basketball star who turned down a full scholarship just to spite his mentally abusive father, to take over as coach for their all-time losing team. Dan (Al Madrigal) is a math teacher whose taken over from the coach they had let go. Jack reluctantly accepts. He knows he's not fit but grasps at a chance for redemption – without even knowing this is what he's doing.
Jack is off to a slow start but as he warms up he curses with great skill and the team chaplain, Fr. Mark (Jeremy Radin) takes him firmly to task because he has to set an example – and it's in the rule book. Little by little the team takes shape and they start to win games.
Dan confronts Jack one day after he finds a beer can in the coach's office. Jack pushes back but is more careful. He really is trying to cut back but cannot quite stop. He meets with his ex-wife Angela (Janina Gavankar) and we discover that they have been separated for about two years after the death of their child from cancer. They meet with her family because they have a young nephew with cancer. Jack can hardly bear it. His alcoholism has infected every aspect of his life and relationships. Then one day at the bar, he puts down the beer and leaves.
Written by Brian Inglesby and directed with edge and sensitivity by Gavin O'Connor (Miracle, 2004), "The Way Back" is about alcoholism and addiction and how reaching bottom can motivate a person to begin the journey to take control of their lives again. It's also about those who love this alcoholic but Jack's struggles, that we empathize with, is the main character of the film
I had the chance to speak with Kim Humphrey of PAL: Parents of Addicted Loved Ones. Although he did not have a role with the film's production, he has seen it. Humphrey explained that his organization's approach is for families of addicted loved ones to meet together for "peer-to-peer" conversations in group settings. Now in 38 states, the organization seeks to offer family members 18 and over a safe place to share about what works and doesn't with their family member's alcoholism and addiction. I asked if they show and talk about films at their meetings and he explained that while there is no time allotment for screening a film, people bring films into the conversations all the time and he sees "The Way Back" as a good example of this.
"One of the most important things I've learned over the years," Humphrey said, "is that you can want something for someone else, but it has to come from them. I always like to say that treatment is not for people who need it but for people who want it. The thing that I always try to focus on is to be an encourager in the process, not telling alcoholics what to do but that I believe in them, that you believe in them, that they can figure it out, that you'll be there for them as they go through the process" of healing.
An evangelical organization, Humphrey says, "We begin and end each session with a prayer. That's all. As you know, there has to be a spiritual component. But we don't preach. We always tell people we will pray for them, we are the cheerleaders." He explained that PAL is somewhat different from AA in that the process is peer-to-peer facilitated by a leader rather than individuals sharing their stories.
In correlation with the movie, "You as a family member are not their coach, it's better if they see a film like this and can figure it out for themselves. For Jack, he had something positive happen, he was part of a team, he rediscovered some self-esteem from his life as a basketball player. When he goes back to the bar and you see him deciding not to drink, it's his decision. You could beg him all day long not to do it, but it has to be his decision."
"The Way Back" is a work of fiction. In some ways it reminded me of "Hoosiers" but it is not as much about basketball as it is the return journey of an alcoholic to re-enter his life and reconnect with his family. It is interesting to know that Ben Affleck, who has been in and out of rehab, and who plays this role in a deeply-felt and convincing manner, was in rehab for much of the filming and was accompanied to the set each day by a sober coach. As an audience member, I got the feeling I was watching Ben Affleck's life. I cheered for him. He's an awfully good actor and I often think he's underestimated. Here, he nails the performance.
All the basketball games are between Catholic high schools and I must say, I found the priests very "real," especially Jeremy Radin. I felt like I was in a Catholic environment where young men were learning to be responsible men.
"The Way Back" is a very good watch both for recovering alcoholics, hopeful addicts trying to change, and all those who love them.