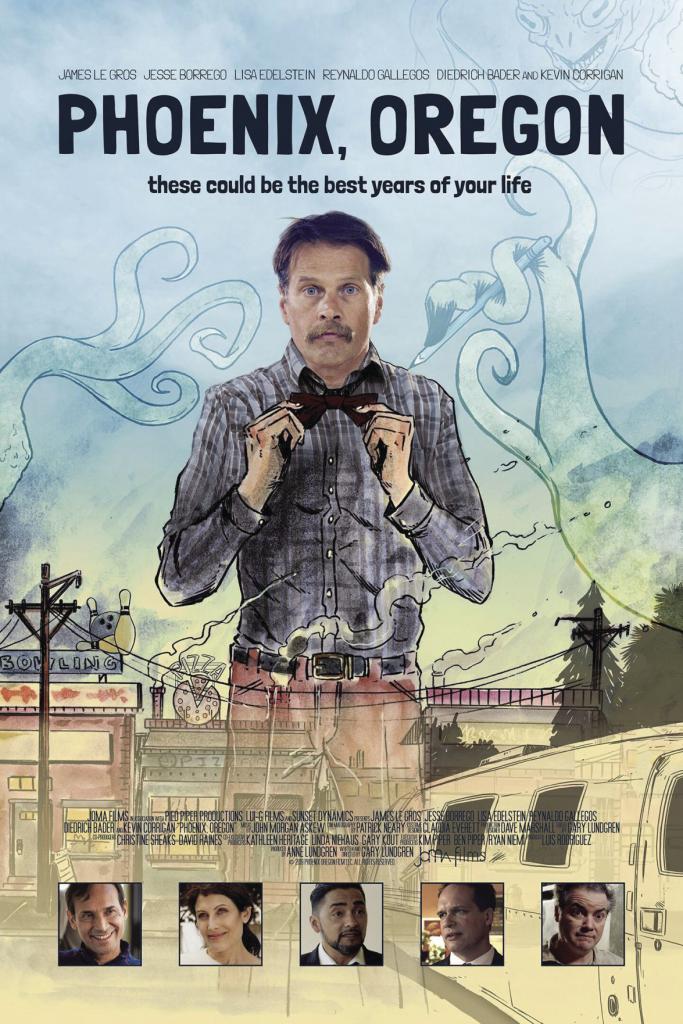 Bobby (James Le Gros) is middle-aged, divorced and a brilliant unpublished graphic novel artist. He lives alone in a trailer somewhere behind the main street of Phoenix, Oregon where he works as a bartender at a restaurant owned by his obnoxious boss Kyle (Diedrich Bader) who steals from the tip jar. When Bobby goes home at night he muses over his art and wonders if his ex-wife ever thinks of him.
His old friend Carlos (Jesse Borrego) is the head chef at the restaurant and he wants to be his own boss. He invites Bobby to come in with him and buy the old bowling alley so he can make authentic Neapolitan pizza and Bobby can run the bowling (and bar) side of the operation. When Bobby refuses, Carlos finds another investor through Tanya (Lisa Edelstein) and moves forward. Bobby finally decides to invest the inheritance from his mother that he'd been saving for any children he might have. There's a lot of work to do on the bowling alley. They hire Al (Kevin Corrigan) to repair the lanes and though he refuses to give a discount he does a good job. When it takes a lot of effort to get the main investor to finally sign a check, Bobby is suspicious but keeps going. He's also interested in Tanya who is always around for some reason.
When the bowling alley opens Al, Kyle and Bobby challenge each other in the opening tournament. Things are going well, well, until they aren't.
Bobby has always had a thing about aliens in his comics, ever since he was about 14 years old. Carlos teases him in a good natured way until Bobby's lack of faith in himself makes Carlos challenge his friend to look inside his head and see things differently. Maybe the aliens were trying to help him.
I heard about "Phoenix, Oregon" earlier this week when I received an email saying that audiences could watch this newly released film at home. I contacted the filmmakers Anne and Gary Lundgren (he also wrote and directed) and they sent me a link. I wanted to see the film so I could review it for you before encouraging you to rent the film from the comfort of your own home while we are house-bound during this time of the CoronaVirus.
The acting, especially by James Le Gros, is very good as a likable loser with a bow tie and a good heart. You'll recognize most of the main actors from film and television. Their participation enriches this rather simple story about people who have hopes and dreams but hide them by seeming to live ordinary lives.
This is a very sweet film, a parable, about men who keep trying in life even when things go awry. It's about the virtue of opening one's heart to others, to friendship, a little romance, and to appreciate, enjoy, the innocence of people, families, sharing (great) pizza at a bowling alley in a small, sleepy town in Oregon. This "ordinary" life is what many people live. Some may think ordinary is boring, but in these days of the Corona, I'll take ordinary anytime.
The film was shot in Klamath, Oregon, and used many local sites in the filming.
You can get tickets at the film's "theatrical-at -home" site HERE as of today; revenue will be split with theaters.