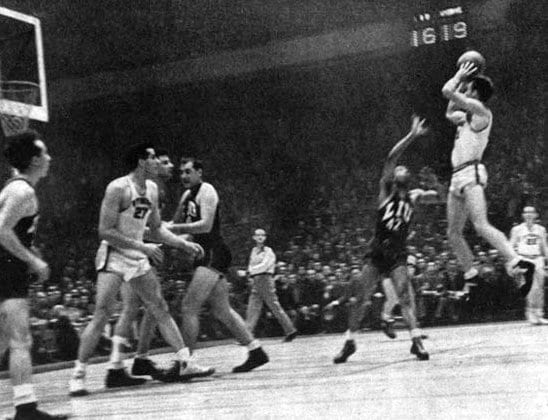 Eric Schaal/Life Magazine, via University of Wyoming
I cry so easily these days. I am on day 33 of quarantine in this time of the Corona-19 virus. Watching movies like "Jump Shot" moved me greatly and made me sob. Maybe its because of the innocence of the story, and the humility of the man who "invented" the jump shot as a 13 year-old kid in 1933 in Wyoming, playing hoops with his much taller brother. It was a basketball innovation that became so normal that  Kenny Sailors who developed this shot was  just forgotten – and is now being remembered.
I love that. It lifts my heart. This story, about a genuinely good man, is the perfect film for a sports-starved audiences during the quarantine.
The Academy Award winning documentary "Jump Shot: the Kenny Sailor's Story" is premiering April 16 – 19 at  Jump Shot the Movie with 10% of the proceeds going toward Covid-19 relief. Steph Curry, one of the nicest guys in pro basketball, is the executive producer.
Several basketball greats are interviewed in the film and add to its warmth: in addition to Curry: Kevin Durant, Dirk Nowitzki, Clark Kellogg, Bob Knight, Nancy Lieberman, Lou Carnesecca, and Kiki Vandeweghe.
This is such a great American story, it's amazing that Hollywood hasn't made this story before. After college at the University of Wyoming in 1943, the school retired his basketball jersey, the only number (4) they ever retired. After playing a few years in the brand new NBA, he retired and moved with his wife and his family to Alaska for 35 years and disappeared.
Even if you are not like me (as in not a sports fanatic but a some-time appreciator), don't miss this well-crafted and inspiring story.
(PS the film also follows efforts to have Kenny Sailors admitted to the Basketball Hall of Fame. So far, these efforts have not been successful. When you watch this film, see if you don't agree that Kenny belongs there.)
From the press notes:
JUMP SHOT is directed by Hamilton, executive produced by Stephen Curry, Jim Hamilton, Dave Beathard, Melissa Neugebauer, Ryan Munson, Brenda Robinson, and Mary Beth Minnis and produced by Russell Wayne Groves, Jacob Hamilton, Erick Peyton, Jeron Smith, Ty Clark, Andrew Lee and Unanimous Media.

For more information on JUMP SHOT, please visit, http://www.jumpshotmovie.com/ and follow JUMP SHOT for updates on ticket information, group screenings and more:

Website – http://www.jumpshotmovie.com

Facebook – https://www.facebook.com/jumpshotmovie/

Instagram – https://www.instagram.com/jumpshotmovie/

Twitter – https://twitter.com/jumpshotmovie

Run Time: 79 minutes