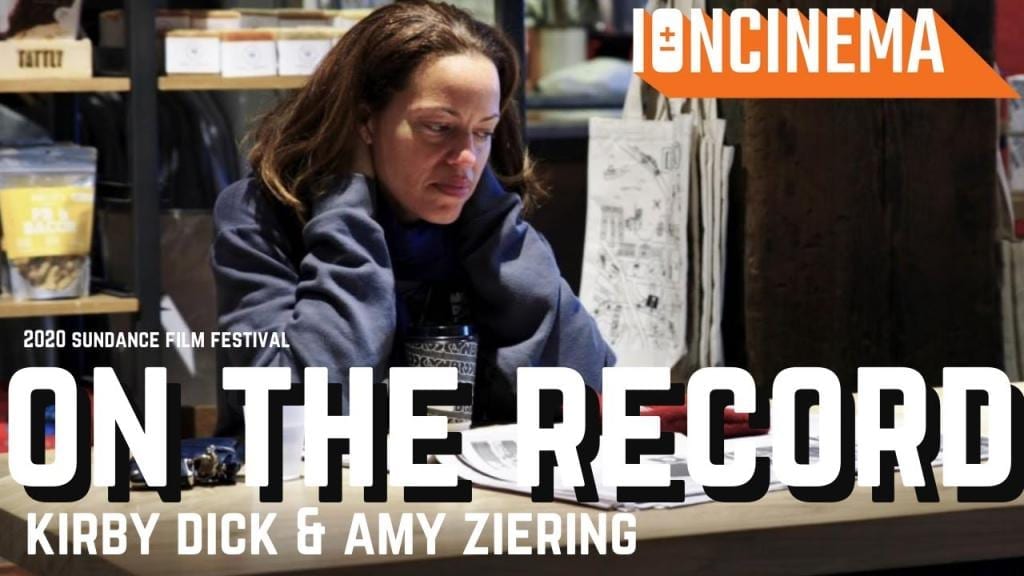 The release of HBO's documentary On the Record could not be more timely. Directed and produced by Kirby Dick and Amy Ziering (The Hunting Ground, The Invisible War), the chilling accounts of three black women in the recording industry who alleged to have been abused by African American hip-hop music mogul Russell Simmons, coincides with the outrage at the killings of Ahmaud Arbery, Breonna Taylor and George Floyd by white policemen. Why? Because men in power abuse others because they can. Plus, they often get away with it or are not held accountable. Whether it is the #MeToo movement or #BlackLivesMatter, On the Record becomes an immediate part of the canon of films about gender and racial oppression and violence in the United States today.
After seeing the film and listening to Drew Dixon, Sil Lai Abrams and Sheri Sher, speak to journalists, this reality hits hard when you watch a white cop kneel on the neck of a man gasping "I can't breathe" and then goes silent because he dies.
On the Record is about silence and absence of black women's voices in the #MeToo movement and the courage it takes for black women to decide to come forward and speak out. There is an implication that only the voices of white women matter in the #MeToo movement, though it was founded by an African American woman. Everyone knows about Harvey Weinstein and his accusers that fired up the already existing but little known #MeToo movement.
But we don't know, or haven't until now, was about allegations of sexual violence and abuse and pervasive misogyny in the hip-hop recording industry. On the Record was so controversial (disturbing? upsetting?) at Sundance this past January that Orprah Winfrey withdrew as an executive producer citing creative differences. Winfrey's name is not mentioned in the film nor was it at the press meeting in which I took part. Instead, the lack of support for victims within the black community and its unwillingness to believe women's stories, is at the heart of their stories.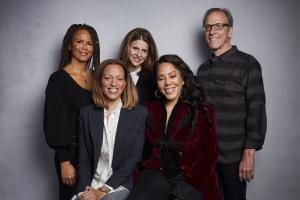 The film spends most of its time in the slow telling of Drew Dixon's story, beginning in the 90s. I admit, I did not know who she or Sil Lai Abrams or Sheri Sher were before I saw the film. But their credentials are amazing. Dixon collaborated on hit records with Method Man, Mary J. Blige, Estelle and Kanye West, and Whitney Houston. She was on her way to the top as an A&R (artists and repertoire development) executive and Def Jam Records. I also admit it took a long time to get to the place in her story when Dixon modestly describes the night when Simmons attacked her. Her description of what the rape did to her soul is haunting and heartbreaking. Although the narrative walks a slow path, it keeps your attention mostly because Dixon is a deliberate and powerful storyteller and the camera loves her.
Dixon left Def Jam and moved on to Arista Records and runs into the advances of CEO L.A. Reid. When she repeatedly refuses to meet him at a hotel, he refuses to sign John Legend and Kanye West, two talents that she brought to the label. Then, she walked away.
In addition to Dixon, Abrams (a journalist, advocate for domestic violence victims and former model) and Sher (founding member of Mercedes Ladies, the first all-female hip-hop group), other black professional women are included and interviewed, who allege abuse as well. Several cultural experts such as Tarana Burke, who started the #MeToo movement, Dr. Joan Morgan, a cultural critic and author, Kierna Mayo, a former editor of Ebony magazine and Kimberle' Crenshaw who articulated the theory of "intersectionality." (Do click on this link and see how your own reality appears in the crossroads of race, gender, class, discrimination, disadvantage and oppression.)
It is worth noting that no criminal charges have been brought against either Simmons or Reid and that both deny any wrongdoing. To date, 20 women have publicly accused Simmons of sexual assault and misconduct. In 2017, Reid stepped down from his role as CEO of Sony's Epic Records due to complaints of sexual misconduct.
On the Record is a very smart film, filled with highly educated and articulate women who will be silent no longer. Their stories are told within the historical context of the recording industry going back to the 70s – and the history of the breakdown of the African male and female going back to 1619. Their stories of harassment and abuse are harrowing and the accounts of their courage to heal and become advocates, compelling. If you are open to learning about the black experience, with its culture of women keeping quiet and protecting black men because of centuries of false rape allegations made against them, this is a film that is more than worth your time. It is worth your reflection, awareness and action. If nothing else, talk about the film and learn more about what you can do to support women's voices.
On the Record is a film for our times.
One of the principles of media literacy education is that "media are industries organized for profit or power." It is up to us, the mothers, sisters, teachers, clergy, artists, to decide if change will happen because money talks or because industry executives choose respect for human dignity over ambition, profit and power.