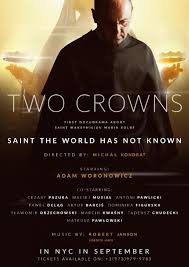 From the same team that brought us the compelling docudrama "Love and Mercy: Faustina" comes a new docudrama about the life of Franciscan priest and martyr, St. Maximilian Kolbe (1894-1941). It will show on one night only, Monday, October 26, 2020 as a Fathom Event at participating theaters. A streaming date for online viewing, and DVD sales, has not yet been determined. See the website for tickets and theater locations: CLICK HERE.
Written and directed by Michael Kondrat, we are introduced to the Maximilian at a long age when the Virgin Mary appeared to him. She offered him two crowns, one white, for purity and one red, for martyrdom. She asked which he would choose and he replied that he would accept both of them.
There is a wonderful moment when he sits next to a priest on the steps of the school or rectory, and says (as I remember it), "If you add love to any problem, you can resolve it." The film bears out that this is how he lived his life as a young Franciscan with a dream of serving Our Lady first as a student in Rome, then through the good press in Poland and Japan. The film was shot at all these locations.
As most people know, Fr. Kolbe was sent to the Auschwitz concentration camp during World War II and there took the place of a man who was chosen to die because a prisoner had escaped. The Nazi officer accepted Fr. Kolbe's offer and the priest was first starved and then killed. He was canonized by now St. John Paul II on October 10, 1982.
I was very moved that the filmmakers included the dark expressionist paintings of a Holocaust survivor who shared the same roll call time as Fr. Kolbe in Auschwitz, though they never met, Marian Kolodziej.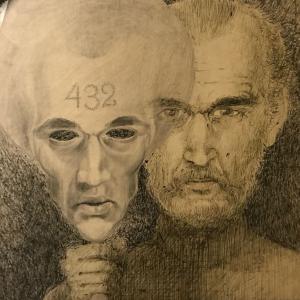 (A documentary film has been made about paintings, The Labyrinth (2010), directed and produced by Jason Schmidt and co-produced by Ron Schmidt, SJ. The paintings are at the St. Maximilian Kolbe Centre Harmeze, Poland, a few kilometers from Auschwitz. Copies of this documentary about the art can be obtained through the website for the film: CLICK HERE)
The cinematography of the film is top notch. The narrator, who is rather folksy and casual as he makes his rounds in cargo shorts and a polo shirt, shares insights and information, some of which will be new to some viewers.
The one glaring problem with the film is that the filmmakers and distributors chose to dub the Polish narration and conversations rather than provide English subtitles, which is what U.S. audiences routinely prefer (despite Netflix' attempt to train us otherwise.) I found the dubbing extremely distracting – which is a real shame because of the inspiring story and the beautiful cinematography.