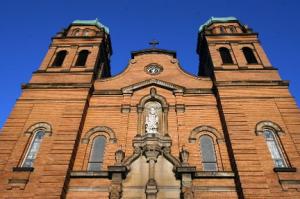 New from  America Media (America Magazine) and appearing on America's YouTube Channel is a 15-minute documentary telling the story of how "This historic Catholic parish fought to stay open and won." The parish is St. Adalbert/Our Lady of the Blessed Sacrament in the Fairfax neighborhood of Cleveland, OH, that was slated to be closed along with 52 others in 2010 as part of a diocesan restructuring plan. But parishioners of St. Adalbert/O.L.B.S., along with 13 others decided to appeal this decision. Nevertheless, the parish was closed or "suppressed" in canonical terms, in 2010.
This beautifully crafted intimate documentary details the efforts of parishioners led by Phillis Fuller-Clips to reopen the second oldest African-American Catholic Church in the United States. They were successful and the church was reopened in 2012.
Reorganization or restructuring of dioceses is always painful and the reasons for closing and clustering parishes: fewer priests, changing population, etc. Though finances were not mentioned in the film, it is an obvious issue in maintaining parish churches and schools. Phillip Clipps spoke with Bishop Richard Lennon, then head of the Cleveland Diocese, and he believes that the bishop believed he was doing the right thing.
One of the key voices in the film is that of Dionne Carmichael who articulates a deeply held "theology of parish."
Parishioners also brought in artist Chloe Becker, who creates "Catholic Art for Justice"  to create a neighborhood mural commemorating the history of St Adalbert's (1884 – 1961) that merged with Our Lady of the Blessed Sacrament (1922-1961) to become St. Adalbert/O.L.B.S. in 1961. (A photo was not available at the time of this posting but you can see it in the film.)
The film is directed by Denis Demirer.
For more about the reopening of  the parish from the Diocese of Cleveland, click HERE.